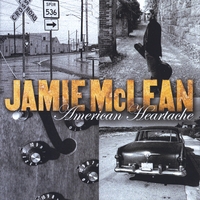 When musicians in a highly acclaimed ensemble decide to pursue solo projects, it seems to result in either undeniable greatness or complete and utter disaster.     John Lennon stepped away from the Beatles, and gave us Plastic Ono Band, one of the most gratifying Rock albums in history.   Stephen Stills gave us Manassas.   Lou Reed gave us Transformer.   On the flip side, I don't know anyone that owns Ride a Rock Horse by Keith Richards.      Then there's this guy named Jamie Mclean.   Lately, he seems to be putting his stamp on Rock Music, and chances are, you've got no idea who he is.    
 
Before blazing his own musical path, Mclean provided the rich and textured guitar sound for the widely praised Dirty Dozen Brass Band.   With his latest solo release, American Heartache,   Mclean explores elements of Soul, Funk, and Southern Rock,   leaving only hints of the New Orleans-style Jazz with which he has always been associated.      
 
Recorded over eight days at the celebrated Allaire Studios in New York, American Heartache, features twelve diverse tracks of twangy roots rock, reminiscent of grunge-era Black Crowes.    With his powerful command of the fret board and a voice that sounds like it was coated in apple butter,   Mclean showcases his unquestionable talent on every song.        
 
Intermixed with slow bluesy ballads, the album's highlights are the raucous, radio-friendly, boot-thumpers like Can You Hear Me Now and Up Down, that make it impossible not to take your hands off the wheel and strap on your air guitar.     American Heartache has no shortage of guest appearances, either.     The album boasts the searing guitar of Luther Dickinson (Black Crowes, North Mississippi Allstars),   the smooth sexy vocals of Shannon McNally,   and the collective genius of Mclean's old Dirty Dozen bandmates.    
 
Now a full-fledged frontman,   Mclean is doing things his way.   And, it's paying off. He's created a sound that's as distinct as it is satisfying, with an energy that pierces right through the speakers.     Mclean is making music the way he wants, and it's clear he's loving every minute of it.     Incidentally,   so are his fans.
Words By: By: Tony Endelman
[Rating: 3.5/5]