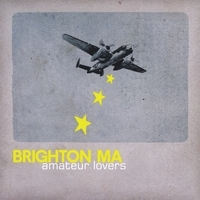 Brighton, MA is a band from Chicago, IL with a sound that could have come from Athens, GA. Named after frontman Matthew Kerstein's hometown, Brighton, MA's Amateur Lovers marks their first full length album. But Amateur Lovers also marks a remarkable leap in the sophistication of the band's song craft. Their debut self-titled EP displayed a group tinkering with great ideas; however those ideas have congealed and developed into something quite impressive on this new release.
 
Falling somewhere between a drunken Bob Dylan and The Flaming Lips, the band cultivates a crossbreed of psychdelia and folk music that is utterly dynamic. Amateur Lovers contains a sound that evolves throughout the course of the entire disc. The album kicks off with the slow and staggering ballad "Let's Be Friends Again" and each proceeding track continues to build in complexity and intensity until culminating on the fever-pitched "Underground". Signaling the cool down, "Underground" begins to shift back to a mournful southern-styled folk with choruses of "Glory, glory halleluiah, to the Lord and Savior." The effect is what you might imagine a country gospel concert would sound like at a UFO landing site.
 
Adding to the spacey motifs, track like "Not Our Fault" and "Hold On" gives an idea of what Christmas might sound like on the moon, combining cymbals and sleigh bells with ambient psychedelic background coloring. Influences of Pink Floyd and David Bowie are pretty transparent, but honestly admitted in referential lyrics.
 
For a group that's been around for only two years, Brighton, MA has created something surprisingly intricate with Amateur Lovers. This is not merely a great set of songs; this is a meticulously built album with each track functioning within the greater whole. A CD like this generally requires several years and many sophomoric albums before getting all the right pieces together, but Brighton, MA has managed it in a fraction of the time.
Words By: David Feltman
[Rating: 4/5]