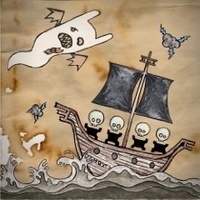 The Gay Blade's website proudly declares them "more Marc Bolan than Jack White, more Stooges than Eagles of Death Metal, more JSBX than Electric Six", and while all of this is very true, they should add to that: more New York Dolls than David Bowie. Because there are a lot of elements floating around in the music of this self-proclaimed "trash pop" duo, from hints of emo to math-rock quirkiness, but none of them are quite as prominent as down and dirty cock-rocking glam.
 
Their blender approach to genre innovation works surprisingly well, creating some of the catchiest tracks to come along in quite some time. But the greatest asset of The Gay Blades is sheer energy. Infectious to the core, once these hooks get under your skin they burrow deeper and deeper. The New York natives put out an impressive wall of sound for just two guys. Even the slower songs yank against the feeble tether that separates them from the balls-out rockers found on the CD.
To top it off, the album is filled with sharp wit that permeates everything to song titles like "Bob Dylan's 115th Nightmare" and "Why Can't I Grow a Beard?" The lyrics range from self-referential deprecation like "it's too fucking early for you to be in songs I write, some cheesy broken heart that needs a doctor or a nurse" to such unexpectedly prosaic choruses like "you whispered words not meant for telephones". But such moments of seriousness never overshadow the band's absurdist sense of humor, as on the wacky duet on "We Wear Mittens".
 
There's really no down side to this astonishing debut album. Every song brings something unpredictable and unique. Whether you like old school rock, funky glam-dance music or enjoy comedy and intellect, Ghosts has everything you could ask for in a single disc. The Gay Blades is definitely a band to keep your eye on.
Words By: Dave Feltman
[Rating: 4/5]