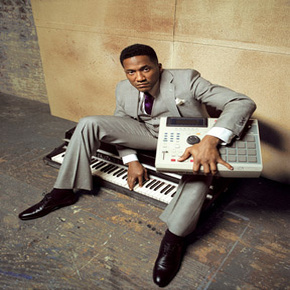 Grammy award winning hip-hop pioneer Q-Tip is set to release his highly anticipated new album The Renaissance (Universal Motown) on November 4th.
His first release since 1999's acclaimed solo debut Amplified, The Renaissance is a versatile portrayal of a pivotal, multi-talented artist at the top of his game. Q-Tip, handling productions duties, taps into a unique sound combining live instrumentation and samples that is pure hip-hop.
Since launching his career with the groundbreaking group A Tribe Called Quest, Q-Tip has grown into a virtual icon and fixture of all that is cutting edge and relevant in pop culture — film, politics, art and music. His personality and creativity is a magnet that connects him with some of the most respected artists and thinkers across all walks of life. This creative dynamism has a profound impact on his musings which result in one of the strongest hip-hop releases this year.
Q-Tip states, "This album is part of a reawakening. For me it was a journey through a musical and cultural rebirth, hence the title. The Renaissance is an album inspired by a new era of vigor, musical expression and of a palpable new movement of time when the youth is ushering in new hopes and ideas without the restriction of boundaries. The Renaissance is the first album of a series I will be creating in this remarkable time of new awakenings."
The lead single from The Renaissance- "Gettin' Up"- is reminiscent of the cerebral wordplay, socially conscious themes and fusion of genre-bending influences that established Q-Tip as a key innovator in the world of music.
Q-Tip – Gettin Up: Closed-Captioned: