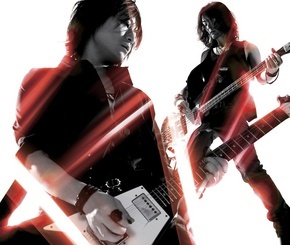 On October 14, Japanese dance rock pioneers Boom Boom Satellites (aka bassist/programmer Masayuki Nakano and guitarist/vocalist Michiyuki Kawashima) celebrates their 10-year anniversary with the digital release of "Exposed."
Boom Boom Satellites are widely considered one of the first true "dance rock" band's (the genre didn't even exist back then) and their impact is felt in the music of some of today's most popular artists. "Exposed" offers 12 tracks that blends philosophical lyrics and an untamed physical rave experience with the toughness of rock'n'roll and the precision of electronic programming.        
Boom Boom Satellites first gained notoriety during the late-90's electronica explosion for making music that sounded unlike what anyone else was doing in the world. The band's melding of dance and rock music was in your face, unique and 100% live. And this live show is at the crux of what makes Boom Boom Satellites stand out from the crowd. In fact, the live show is so good that Boom Boom Satellites have been a favorite at top festivals around the world and toured with acts including Underworld and Moby, among many others.  
STREAM album track "Shut Up And Explode":
BOOM BOOM SATELLITES – EASY ACTION:
[youtube O9FpItx4Gsg nolink]