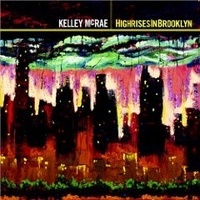 Singer/songwriter Kelley McRae moved to New York and found in the city a love song of profound beauty and frustration.   Having arrived by way of Maryland, Texas and Mississippi, she sees something deep in New York but looks at her new home with the bright eyes of a young child.
McRae's odes of exclamation and frustration are seductive and fresh, coffee house tracks sprinkled with a touch of electroacoustic humming.   At times McRae sounds like she could have been a cohort in the critically acclaimed film Once. She sings with sincerity, unafraid to leave herself vulnerable at the end of a song. Produced by Brian Deck (Iron and Wine, Modest Mouse, Josh Ritter, Counting Crows), her Highrises in Brooklyn is an album of absolute grace.
In "Keep You" McRae lures listeners in with off center sound effects and a tinge of nostalgic echoing pop, while "Last Call Town" and "More of Nothin' bring to mind the type of country that might waft through a smokey modern day saloon.
Highrises in Brooklyn holds its own from start to finish, but if there's one track to play on repeat for weeks, it's "BQE."   Over a hook-filled mix of dozens of tiny electro loops she sings, "I would rather hear the BQE (Brooklyn Queens Expressway), what's wrong with me, than the ocean waves, these days. I would rather see, see your face, swimming past me, than a peaceful gaze, these days."  
There's something profound in McRae's odes to New York City.   With penetrating passion and an overwhelming mixture of adoration and frustration, McRae has found herself in a city where a web of anonymity and chaos appear to reign. This is where McRae belongs (at least for now), and out of that discovery she offers Highrises in Brooklyn in the most beautiful way.
Words By Lauren Proctor
[Rating: 4/5]