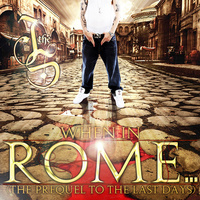 First thing I heard when I hit play on my CD player was the underlying theme music from "Rocky" throughout the track.   "Right Of Passage" made me feel so motivated and on top of the world–I mean come on who the heck doesn't get motivated by "Rocky" and the music associated with it.   Like to meet that person, serious, but in the meantime I'm gonna' go climb some stairs and eat some raw eggs!  
On a serious note now, J The S seems to have a STREET rap sound or rather a rough around the edges appeal.   The lyrics are tough and that's what makes me feel the music behind WHEN IN ROME is coming right from a street corner or block somewhere.   Definitely has that hard exterior as heard by J The S and the other rappers on the album, in which they invite you to hear about their turf and life.
I honestly wasn't feelin' the rap style of J The S along with the other MC's on this record, but the overall rhyme flow cruised right along with the tight beats.   My favorite cut on this record is "No Love", which features a Jamaican vibe thanks to P-Dub with his island sound.   The Jamaican feel meshes well with the STREET HOP sound and mix in some bouncin' beats with videogame sound effects and you have yourself a hot joint!
I also can't overlook the awesome album cover; It's Flashy and Eye-Catching and permeates a bright glow.   It was the first thing I noticed right away because of the overwhelming amount of gold glimmering away. Very cool and job well done to the art team!
For more info, SKOPE out www.myspace.com/jthesgg and www.jthest.com
Words By: Jimmy Rae
[Rating: 2.5/5]