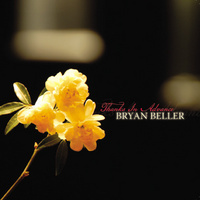 Instrumental music can be a hard sell in an environment where the big hits have mushy, sub-literate choruses about false love and devotion or money or whatever of the three or four rotating obsessions du jour is in the public consciousness that week. And often enough, those instrumental records are no better with their "look what I can do" wankery. Bryan Beller's Thanks In Advance falls into a decidedly "other" category, as well-written as it is well-played, with a range of moods from playful to melancholy (where others might be stuck on full-throttle wheedling or faux blues).
Beller's name might be familiar to some fans as the bass player for Dweezil and Ahmet Zappa's band Z or as the touring bassist from with Dethklok (Adult Swim's awesome and ridiculous death metal band). It's not surprising, from his resume, that Beller can shred if he wants to. Or that he favors music along the lines of Frank Zappa's electric jazz and King Crimson's evolved sludge rock. But even with the more abstract arrangements and exotic time signatures, the playing never sounds mechanical or forced.
"Love Terror Adrenaline/Break Through" goes through significant mood swings over its nearly ten and a half minutes, and features some brilliant playing by guitarist Mike Keneally (Beller's bandmate in both Z and Dethklok). In the first section, Keneally builds tension with melodic bursts that bring to mind Stephen Sondheim's intricate vocal lines. Somehow, that segues seamlessly into some monster riffing, then into a broader, soaring line, and back and forth again before finally building into a repeat of the broader melodic motif at the end. Beller's closing bass melody winds down the frenetic ride, allowing a little sanctuary before the more languid title track that follows (the album is also nicely paced).
The one track with lyrics, "Play Hard," sounds like a warmed-over beer commercial at first, but that's exactly what it's poking fun at — "Just one more beer and I won't have no fear/Cause I'm entitled to the world." (And if perchance one of the major hops merchants decides to pick the song up for a commercial, then maybe there is a god, and he's one funny motherfucker). And if that's the song that allows people who normally don't go for instrumental music to give Thanks In Advance a spin, so much the better.      
Words By: Nick A. Zaino III
[Rating: 4/5]