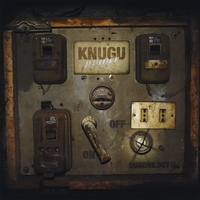 Knugu's EP, Quadrilogy, is a short four track pop induced disc that is soft, somewhat funky, and adding a smooth flavor to the indie rock style. Mixing tastes of Zero 7, The Samples, and perhaps even a bit of John Mayer or Counting Crows, Knugu has created a CD that is a comfort to listen to; much like putting on a warm sweater on a cold winter day.
 
The EP itself is quite theatrical in its description as the band wrote an entire storyline to the songs that starts off with "Getting Over You" and ends with "Running Back to You." Normally, such redundant titles on a such a small EP might give the listener a sense that the album will be ordinary. However, the storyline about a young American couple in the first decade of the 21st century is pasted boldly on the back of the CD so one can read and listen simultaneously.
Every track is radio friendly and primed for mainstream CMJ style listeners. All around a solid, feel good album.
Words By: Whidden Flores
[Rating: 3/5]