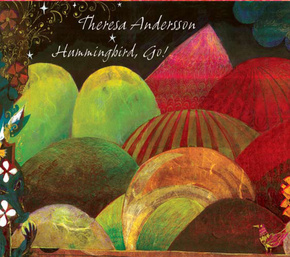 After the incredible success of her first video, "Na Na Na" on YouTube, multitasking chanteuse Theresa Andersson, has made a new live video performing the album single, "Birds Fly Away," in her kitchen.  
Theresa is promoting her album, Hummingbird, Go!, recently released on Basin Street Records and recorded entirely in her kitchen.  
Theresa Andersson is currently on road and soon be touring with fellow Scandinavians Tobias Fromberg and Ane Brun, including a stop in NYC at the Living Room on October 22nd for CMJ.   Full US tour dates listed below.
Here is a link to the "Birds Fly Away" video stream:
US Tour Dates
9/23               Cincinnati, OH       @ 20th Century Theatre
9/25               Baltimore, MD       @ 8 x 10
9/26               Philadelphia, PA         @ World Cafe Live
9/27               New York, NY       @ Bowery Ballroom
9/30               Washington, DC         @ DC9
10/02               New Orleans, LA       @ Howlin' Wolf
10/04               Gretna, LA                 @ Gretna Heritage Festival
10/21               Washington, DC       @ The Swedish Embassy
10/22               New York, NY       @ Living Room (CMJ)
10/23               Philadelphia, PA       @ Tin Angel
10/24               Arlington, VA         @ IOTA Club & Cafe
10/25               Norfolk, VA                 @ Attucks Theatre
10/28               Nashville, TN                 @ The Basement
10/29               Dayton, OH                 @ Canal Street Tavern
10/30               Indianapolis, IN         @ Rathskeller Restaurant
11/01               Chicago, IL                 @ Schubas
11/08               Montreal, QUE.         @ Petit Campus
11/10               Allston, MA                 @ Great Scott