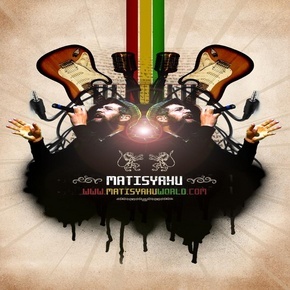 On October 18, Grammy-nominated artist Matisyahu will begin an extensive fall tour across North America, including stops in Los Angeles and Philadelphia.
The tour coincides with the release of his upcoming EP, Shattered (Epic Records, October 21). The four-song EP features tracks from his new full-length album, Light (due out in early 2009). Matisyahu will guide fans through songs from this forthcoming album during listening parties after each show on the fall tour. (Please see reverse for a complete schedule of performances.)
Produced by David Kahne (Paul McCartney, Regina Spektor, Sublime), Shattered features songs from Matisyahu's forthcoming album recorded and mixed in Jamaica, New York, Los Angeles and Virginia. Several guest artists contribute to the four-song EP: ground-breaking Jamaican reggae rhythm section Sly & Robbie (drums and bass, "Two Child One Drop" and "I Will Be Light") Stephen McGregor (co-producer, keyboards, drum-programming, "Smash Lies") son of legendary reggae artist Freddie McGregor and among Jamaica's youngest and most innovative young producers, Fish (drums, "So Hi So Lo") and Norwood Fisher (bass, "So Hi So Lo") of the legendary L.A. alt-punk-ska band Fishbone and experimental turntablist Ooah from the Glitch Mob (co-producer, co-writer, drum programming on "Two Child One Drop").
Matisyahu Tour Dates
October 18                                                                                   Milwaukee, WI                                                                                           The Eagles Club
October 19                                                                                         Chicago, IL                                                                                                     Riviera Theatre
October 22                                                                                   Indianapolis, IN                                         Egyptian Room at Murat Center
October 23                                                                                         Detroit, MI                                                                                     The Fillmore Detroit
October 25                                                                                       Millvale, PA                                                                                     Mr. Smalls Theatre
October 26                                                                               Johnson City, NY                                                                 Magic City Music Hall
October 28                                                                                     Providence, RI                                                                 Lupo's Heartbreak Hotel
October 29                                                                                       Boston, MA                                                                                           Orpheum Theatre
October 30                                                                                 Philadelphia, PA                                                                                           Electric Factory
November 1                                                                               Baltimore, MD                                                                                       Ram's Head Live
November 2                                                                                 Montclair, NJ                                                                                         Wellmont Theatre
November 3                                                                           Washington, D.C.                                       Sixth and I Historic Synagogue
November 4                                                                             Blacksburg, VA             Virginia Tech University–Burruss Hall
November 6                                                                                   Norfolk, VA                                                                                                     Norva Theater
November 8                                                                                     Atlanta, GA                                                                                         Variety Playhouse
November 9                                                                           New Orleans, LA                                                                                         House of Blues
November 10                                                                               Houston, TX                                                                                                 House of Blues
November 11                                                                                 Austin, TX                                     Stubb's Waller Creek Amphitheatre
November 13                                                                                   Dallas, TX                                                                                       Palladium Ballroom
November 15                                                                                 Tempe, AZ                                                                                               Marquee Theatre
November 17                                                                           San Diego, CA                                                                                             House of Blues
November 18                                                                         Los Angeles, CA                                                                                                       Club Nokia
November 19                                                                                   Chico, CA                                           Bell Memorial Union Auditorium
November 20                                                                             Anaheim, CA                                                                                     Grove of Anaheim
November 22                                                                           Las Vegas, NV                                                                                             House of Blues
November 23                                                                     San Francisco, CA                                                                                     Warfield Theatre
November 24                                                                           Santa Cruz, CA                                                                                                       The Catalyst
November 26                                                                             Park City, UT                                                                                                               Harry O's
November 29                                                                                 Denver, CO                                                                                                     Ogden Theatre
November 30                                                                               Boulder, CO                                                                                                             Fox Theatre
December 6                                                                                 Louisville, KY                                                                       Headliners Music Hall
December 7                                                                                   Nashville, TN                                                                                                                     Cannery
December 9                                                                                 Columbia, MO                                                                                                               Blue Note
December 11                                                                             Cincinnati, OH                                                                                                                   Bogart's
December 14                                                                             Cleveland, OH                                                                                             House of Blues
December 16                                                                                 Toronto, ON                                                                     Phoenix Concert Theatre
December 17                                                                               Montreal, QC                                                                                                               Metropolis
December 18                                                                             Burlington, VT                                                                                             Higher Ground