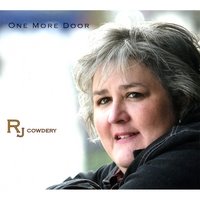 Take one look at the cover of RJ Cowdery's "One More Door." What do you see? Somebody's mom. Don't let that sway you. Put on the CD. You don't have to listen closely. Cowdery doesn't sound like anybody's mom. Her voice is rich. It carries smooth and steady, like a road leading to home. Full of wisdom and soul, Cowdery knows to pace herself. As she says, she'll keep driving until there's "one more door to go."
At first glance, her album appears to be bland. The track listing shows cliché song titles, titles to songs already written, like "There She Goes," "Hold On," "These Ties that Bind" and "I Believe." But don't judge a CD by its cover. In each song, it's the way that Cowdery gets to the hook that makes her different from other songwriters.
For example, in "These Ties that Bind," Cowdery sings about the support of a good family–how members stand by and help each other grow up and face the world. "I Believe" presses the importance of taking it slow. While many songwriters sing about letting go of the past, Cowdery says, "Hold on." Sometimes uncool, these beliefs add a spark of originality to her classic country/acoustic record.
Cowdery's sound is reminiscent of the Indigo Girls in both tone and melody. However, she's safer than that, quietly revolutionary and feminist. That's not to imply that she's boring. Rather, the songs on this album lilt and sway like a rocking chairs on a porch.
It's polished, but not over produced. This comes courtesy of her backing band. Percussionist Ammed Solomon and guitarist Michael Lipton are with International Public Radio's Mountain Stage, and legendary producer Don Dixon plays bass. Their influences can be heard gently and sporadically throughout each song. Guitar harmonizes behind the vocal melody, sometimes lush and graceful, sometimes melancholy. Bass lines seep into the background, adding a homey weight to the texture of the album.
RJ Cowdery offers comfort, solace, and one more door.
Words By: Anney Ryan
[Rating: 3/5]