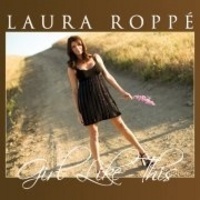 Laura Roppe may think of herself as a "Girl Like This," but her debut album is the work of a hard-working woman who's been through a lot.
She's studied theater at UCLA, practiced law, birthed and raised two daughters, ran marathons, written an album of songs, and most recently, become a runner-up of Kenny Chesney's Next Big Star Contest. Rather than compose an album of weary, life-laden songs, Roppe wrote a rockin' up-beat album, clearly having found her true calling.
Her best-known song, "Mama Needs a Girls' Night Out," is a liberating anthem for any mother, with hilarious lyrics that will draw smiles from women who've not yet had the opportunity. Whether mothers or daughters–this album is for all women. "Mama Needs a Girls' Night Out" kicks off a theme of female empowerment that bullets through the whole album. In several songs, Roppe growls like a lioness. But she's not angry. She's passionate about her message. She believes that women should follow their own paths.
At times her lyrics border on silliness. She sings lines that only a goofy mom would sing, like "Ooh La La." Few men will be able to get into Roppe–but this album isn't for them.
This "Girls Only" mantra continues in the softly wrought, "Little Daughter," where Roppe offers life lessons to her daughters. "Free" tells the story of how she left practicing law to explore songwriting. Towards the end of the record, she finds love. She finds it, but in no way has compromised her individuality to get it and hold onto it.
Some may compare her style to Sheryl Crow. Roppe delivers more country than Crow, though; as she says: "It's where my heart and soul is." One could be reminded of Shania Twain in her lyricism and happy melodies, except that Roppe is so much more likable, not cultivated by the industry. Roppe is true to herself, in both words and music.
Words By: Anney Ryan
[Rating: 3/5]