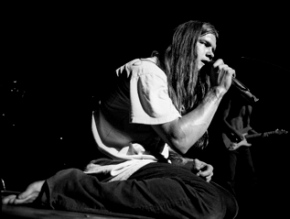 One of the most tragic stories of the 1990's rock world was that of singer Shannon Hoon, and his band, Blind Melon.
Despite scoring one of the decade's most enduring singles and videos, "No Rain," and a quadruple platinum hit with their 1992 self-titled debut album (in addition to touring alongside rock's biggest names), Hoon could not overcome a dangerous drug addiction. Only two records into a promising career, Hoon was dead from an overdose at the age of 28. 'A Devil on One Shoulder and an Angel on the Other' is the first book to tell the group's story — culled from over 50 exclusive interviews, and featuring many never-before-seen photos.
'A Devil on One Shoulder' was written by journalist Greg Prato, whose work as appeared in a variety of sites and magazines, including All Music Guide, Billboard.com, Rolling Stone.com, and Classic Rock Magazine, among others. A long-time fan of the band, Greg has been working on this book – with the help of the surviving members of the band – for the past few years. In the process, Greg conducted interviews with such renowned rock names as Duff McKagan (Velvet Revolver/Guns N' Roses), Gilby Clarke (G n' R), Mike Clink (G n' R producer), Kim Thayil (Soundgarden), Jerry Cantrell (Alice in Chains), Mike Inez (Alice in Chains), and Craig Ross (Lenny Kravitz), plus family and friends – including Shannon's mother, Nel Hoon.
'A DEVIL ON ONE SHOULDER AND AN ANGEL ON THE OTHER':
While it will obviously appeal to fans of Shannon and Blind Melon, this 344 page paperback book (whose title comes from a phrase that guitarist Rogers Stevens once said to describe Shannon) will also be of interest to fans of Guns N' Roses, as Shannon's friendship with Axl Rose is chronicled throughout the years, as well as memories of when Melon opened shows for G n' R in 1993 (at their out-of-control peak). Elsewhere, you'll find additional stories on Soundgarden, Alice in Chains, Neil Young, Lenny Kravitz, Page & Plant, and the Rolling Stones — all of which are bands that Blind Melon toured with. And of course, new light is shed directly on this great yet often underrated band, as you get the inside scoop behind the three classic Hoon-era albums (the aforementioned 'Blind Melon,' 1995's 'Soup,' and 1996's posthumous release, 'Nico'), the story behind "No Rain," the colorful yet tragic life of Shannon, and the group's recent rebirth, with new singer Travis Warren (and new album, 2008's 'For My Friends').
The book is available through www.lulu.com for $19.99 (U.S.), and there are samples to read at the site (including a full chapter, titled 'Axl and Shannon'). Blind Melon and Shannon Hoon's unforgettable story certainly deserves to be told, and 'A Devil on One Shoulder and an Angel on the Other' covers all the bases.
"I am honored that Greg has painstakingly accounted for what the hell happened during those crazy times. He has summed up all the chaos, jubilation, and paranoia that is Blind Melon." – Brad Smith, Blind Melon bassist