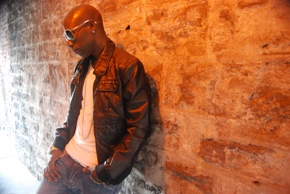 My next guest is not only an incredible upcoming artist but he is also a friend of mine. I met Azzie at Clark University in Worcester, MA when George Gendron (Founder of Inc Magazine) invited us to speak with his students. Co-founder of The Blue Man Group, Matt Goldman,  was also on hand that night so it was a big night.  From the minute I met Azzie I knew he had the attitude, talent, and drive to be a star. Now over a year later Azzie has just released his album, 'Soul Sauce' and it's really a refeshing take on urban soul, hip hop, and music in general. If you are not familiar with Azzie allow Stoli to introduce!
Stoli: Your new album is out now. What have you been doing to help promote and get the word out to your fans?
 
Azzie: My team and I have been doing lots of shows across the country, I actually just started a mini east coast tour which covers 7 weeks and 4 cities. The cities include Philadelphia, Atlanta, Boston and will finish in New York City. We have been doing heavy internet marketing and promotion, and just good old fashion leg work.
Stoli: When you were setting up distribution, did you go with heavy physical copies or mainly digital distribution?
 
Azzie: I did both, more digital distribution than physical. The internet has drastically changed the way people buy and listen to music. Physical CD sales has dropped every year to date, while MP3 and ringtone downloads have increased.
Stoli: How long did it take to create & record this album and how did you feel when you had the master copy in hand?
 
Azzie: It took about three months to complete, I'm very particular about my music, it has to sound, feel and hit right. But when I had the final master I was like, I think we have a winner..
Stoli: What happened in your life that led you to want to pursue music as a career?
 
Azzie: When I was a kid my mom would play her old records, you know the ones we call great old records that you still hear today some times. I would be into her records all the time, just listening. My brother was heavy into hip-hop. I was in the middle like, that sounds like… or didn't I just hear that. The combination of both, the old and at that time the new, made me want to create. You hear everyone say "music is a way out", for me music is inspiration.
 
Stoli: If 'Soul Sauce' was a marinade, what meat would you grill it with?
 
Azzie: Doesn't matter what you grill it with, unlike hot sauce or BBQ sauce, Soul Sauce goes great with everything.  
Stoli: Are you interested in signing with a major or are you happy going the indie route?
 
Azzie: Even though I am very thankful to be signed to an independent label (Boogie Life Music), I would love to be apart of a major label situation.
Stoli: What has been some things in life that you have had to sacrifice in order to pursue your passion in music?
 
Azzie:   I would have to say my personal time is very limited now, because I'm always in the studio, or doing shows, so my, ME time definitely has suffered, but this is what I was put on this earth to do, so its all good, I will sleep when I die.
Stoli: You have worked with many big artists. What artist would you say taught you the most and what did you pick up?
 
Azzie:   I have learned a lot from every artist I have worked with. You can never have to much knowledge, and being that I'm a new artist, I would be a fool not to pay attention and absorb everything. The biggest thing I have learned is to work extremely hard and to listen! Listening is a lost art, and you absorb so much more when you do it. The entertainers I have been blessed to work with, work extremely hard to be cutting edge, so I have learned an unbelievable work ethic.
Stoli: If I was an A&R looking to sign you. What track would you want me to hear first?
 
Azzie: Every song on the album, "Soul Sauce- available worldwide",   is reminiscent of the feel good hip-hop era, you will always want to hear,   the make you party, make you dance, make you feel good music. If I had to pick one song, I would have to say, Going Out My Mind, it features Kori Massey a very talented new singer I'm working with. We blended so perfectly and it you hear it in the track. The song speaks about a timeless situation, that every one has gone through or will go through no matter where you are.  
Stoli: Your music has various soul influences. What artists would you say have had the most influence on the music you create today?
 
Azzie:   I would say a combination of Kanye West, A Tribe Called Quest and Pete Rock.
Stoli: In November we will choose a new president. What are some issues that you find to matter most to you & what would you like to see done?
 
Azzie:   Definitely less taxes for the lower and middle class, and better education for public school kids. I think these are things our past presidents have dropped the ball on, so I will surely be casting my vote in November.   There is never an excuse not to VOTE! First go register and then go VOTE!
Stoli: You have a very close business with Triple F Unlimited. How do you work with them to help better your career & exposure?
 
Azzie: Yes, they are very hands on in my project. I would say they are instrumental in creating exposure opportunities. They believe in my music just as much as I do, and that's very important to me. Unlike many other management teams, we are like partners. They will call me with a new way to gain exposure or I will give them a call with some thing that could work. I would compare it to a presidential campaign but for an artist. Triple F Unlimited is the campaigning team and I am their candidate. I'm out there marketing and promoting my project just as much as they are. We both find new and innovative way to gain more exposure.    
Stoli: Hip hop stardom has alot to do with street cred. What do you say about the rappers that never got a record until they put out a record?
Azzie: Its funny you should ask that, because I have had countless discussions on that subject. I believe, "Street Cred" is defined doing the things you say you are going to do. Its sad that   hip hop artist don't know how to be themselves. Who ever said getting arrested and having a criminal record was cool? Chris Rock said it best in one of his shows, we idolize some one who comes home from jail, more than someone who graduated from school. Its that way of thinking is why artist like Nas say hip hop is dead.  
Stoli: Your swagger is tight, what kind of women do you date and where do you take that fine woman out in NYC?
Azzie:   I love a woman who is about her business, has a mature way of thinking and has something to bring to the table. I am very focused on my goals and aspirations and I love women who are just as determined. If I was on a date I would take her to this Thai restaurant I love to eat at.
Stoli: Where can my readers go to buy the new album 'Soul Sauce' and get more Azzie?
Azzie:   The Soul Sauce-EP is available world wide,on   Itunes(US,Japan,UK), Amazon MP3,Rhapsody,eMusic,Naspster,ShockHound, FYE Stores and even coming soon to Best Buy. The list goes on. "Soul Sauce.. you need that, get that Soul Sauce"…
 
For a preview they can go to www.myspace.com/youngazzie or www.sonicbids.com/azzie