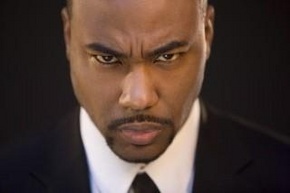 KOCH Records is happy to announce the release of Disturbing Tha Peace Presents…I-20: Blood In The Water.   The album will hit stores on October 14th, 2008 and features appearances by Ludacris, Playaz Circle, Lil Keke and more.  
Based in Decatur, GA, I-20 has one of the deepest and most imposing voices in hip-hop. He met a prestardom Ludacris in 1997, which led to him becoming a member of the multi-platinum rapper's Disturbing Tha Peace collective. Disturbing Tha Peace released their debut album Golden Grain in late 2002. The album sold over 620,000 units and debuted at #1 on the Billboard Rap Chart. I-20 quickly went to work on and released his debut solo album, Self Explanatory, in April 2004. The album scanned over 100,000 units. The second DTP album Ludacris presents….Disturbing Tha Peace was released in December 2005 and sold over 627,000 units.  
Ludacris says I-20 is "The most aggressive highly underrated MC in the game."
With his second solo endeavor Blood In The Water, I-20 showcases his distinct baritone voice and southern hardcore wit.   Powered by the lead single and video, "Really Like Her" feat. Ludacris, I-20 is back and once again taking his place among the best of Atlanta's hardcore rappers.
I-20's new single "Really Like Her" feat. Ludacris is impacting at radio now. The single can be heard at:
The viral video for "Down South" can be viewed here: