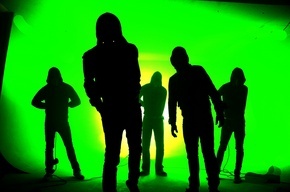 If you've been active in the international music blogging community or read top UK music publications there's a good chance you are already aware of the noise South Central has been making.
It seems from their inception South Central have always inhabited the hostile worlds of indie and dance simultaneously, unlike the multitudes of cross-over bands who have to find their feet in one genre and only later mutate to include both Now it's time to sick The Owl of Minerva on ya.
The Owl of Minerva is a collection of South Central's finest work of the last two years; music that's never been available on CD or mp3. This collection not only acts as a must-have for fans and DJs, but also bringing the South Central story right up to the present and paving the way for the South Central debut album in 2009. Taking its title from nineteenth century philosopher Hegel's assertion that "any historical condition can only be understood just as it passes away," it is perhaps no coincidence then that this release also heralds the historic formation of South Central's own imprint, Egregore Music.
GET YOU FREE DOWNLOAD OF CD TRACK "AEON":
Shrouded in mystery (and indeed their trademark black hoods) the enigma that is South Central manifests itself as both a 2-man DJ/Production duo and as a 5-piece live band; the former spectacularly dissolves the boundaries of what DJing and live music are. The latter is the cowled synthesis of guitars and technology that combines the spirit and song of indie rock with the pounding electronics of big-room techno. But there's also an unpredictable side to the live show. The band does a killer rendition of Josh Wink's "Higher State Of Consciousness" (available on the CD) and recently performed a live cover of Daft Punk's "Da Funk" in Paris of all places! The live show is so good that Does It Offend You, Yeah? tapped South Central as the main support act   for it's October UK tour. No surprise then that both the indie kids and the danceheads have signed up for more.
The Owl Of Minerva is released December 9 on Egregore Music.
"Nothing Can Go Wrong"
[youtube 5-4mvapcp5w nolink]
"Castle Of Heroes"
[youtube nMUrqveFxN8 nolink]