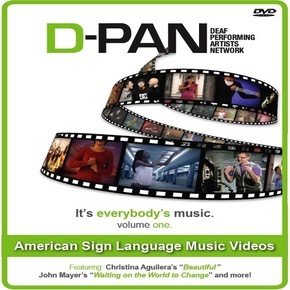 DPAN (Deaf Performing Artists Network) is a new non profit organization that is attempting to bridge the gap between the deaf and hard of hearing community and the rest of the world.
Music videos could be made accessible and enjoyable to a vast new audience of individuals by intergrating sign language into the making of the video as opposed to just being an after thought.
One video that has already been created by the organization and has received over a quarter of a million hits on You tube is John Mayer's "Waiting On A World to Change"
Their newest video which will be released Sept 19th Ive stars the co-founder of this organization Sean Forbes and is his interpretation of "Lose Yourself" By Eminem:
About Sean Forbes:   The child of two musical parents, Sean suffered permanent hearing loss at one year of age, but nonetheless pursued a lifelong aspiration towards a career in the music business. Recognizing both the lack of opportunity within the industry and the extensive need for accessibility to music and music culture for the deaf community, he conceived the idea of ASL-enhanced music videos. He currently serves as D-PAN's creative liaison to the deaf and hard of hearing community. A graduate of Lahser High School in Bloomfield Hills, Michigan, Sean attended Rochester Institute of Technology in Rochester, New York and graduated with a Bachelors Degree in Multidisciplinary Studies.