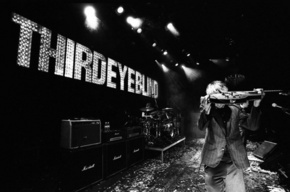 Third Eye Blind has partnered with Indaba Music to launch an innovative new web program, "Studio Access," in support of the band's upcoming album URSA MAJOR, scheduled for release in early 2009.  
Designed to provide Third Eye Blind fans and other musicians with unprecedented access to the band's creative process, "Studio Access" invites fans into to the band's San Francisco studio to witness the recording of URSA MAJOR by logging on:
Through videos, blog posts, and more, 3EB will allow everyone to hear new music and other creative content before it's released, share comments, and even help them put the finishing touches on their new album, starting with the first new track in six years, "Non-Dairy Creamer", the stems of which are being made available before anyone has even heard the band's own final mix!
It's been over five years since Third Eye Blind released their last record, and a lot has changed since then. Especially in the music business, and for Third Eye Blind, the changes are for the better.
3EB had their first taste of fame when the band released their debut CD, Third Eye Blind, in 1997. The album yielded five radio hits, including the now classic "Semi-Charmed Life." The band quickly rose to the heights of rock stardom, touring the world and releasing a string of radio hits over the next seven years. Yet, as they were pushed through the star-making machinery behind their very popular songs, they eventually lost control of their music and their image, until one day in 2004 the band woke up and realized they didn't recognize themselves anymore. It was then that they decided it was time to take a break — time to take a look inside, re-evaluate who they were as artists, and get back in touch with themselves, their music, and most importantly, their fans.
The contest kicks off September 15, when fans and other musicians will be able to download the audio stems from the first single from URSA MAJOR, "Non-Dairy Creamer." Participants will have until October 6 to mix the song and post their finished track on the site, after which Indaba members will choose their three favorite mixes (voting runs October 6-16) as the Top 3 community winners. The band will also select their favorite from among all submissions, and the winning track will be made available on the band's new website (launching soon), Myspace, Facebook and various other sites.
Several other tracks from URSA MAJOR will be made available through "Studio Access" throughout the rest of this year, culminating in a collection of fan-mixed tracks that will serve as a companion piece to URSA MAJOR. Best of all, a grand prize winner will be chosen based on the single best mix of the entire "Studio Access" program, and will be invited to perform live on stage with Third Eye Blind on one of their tour stops in early 2009. Producers of the Top 3 winning mixes of each song will also win signed copies of URSA MAJOR:
3EB ONLINE CONTEST: