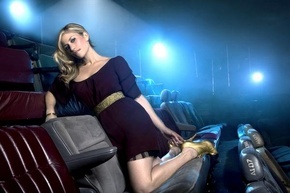 I have a crush on Lucy Woodward. Well, not on the actual 28-year old singer/songwriter who gave us 2003's award-winning "Dumb Girls" (though that would be easy enough). No, my crush lies with the sultry voice that breathes the vocals on her retro/nouveau album Lucy Woodward Is, Hot and Bothered.
The image that the 12-track album conjures harkens back to circa 1930s nightclubs when gloved, sequined-clad vamps with throaty voices and semi-bawdy lyrics crawled on top of grand pianos. Think the lounge scenes from The Fabulous Baker Boys or Chicago.
"I've always loved and sung Jazz standards," Lucy admitted. "I broke out some of those records, with all the horns and the strings and it made me think 'why am I not doing this? I know how to write this stuff.' It just pulled me in a different direction and made me want to do modern day versions of those type records."
So she inked a deal with retail bookselling giant Barnes & Noble (the album is sold exclusively in their retail outlets and the B&N web site) and set about making exactly that. And that's what my interview with Lucy made me realize-this young lady is a dynamo whose approach to her music is more guts and grit, than glitz and glam (although she has admitted to donning sequins.) When asked if the album went the direction she wanted it to Lucy said confidently: "For sure, I wanted to merge the two: the Jazz, bebop elements with pop songs, so it's definitely not just a Jazz record."
The final product has in fact, rendered the nostalgic notes of retro lounge and Jazz with Lucy's pop approachability. Album opener "Love Is Gonna Getcha" sets the lounge-like mood with brush snare snaps, trombone blasts and the eerie string arrangement backer.
 
"Slow Recovery" is arguably the most powerful track on the album with demure soundscapes over Lucy's emotive lyrics. And finally, title track "Hot and Bothered" is perhaps the most blush worthy track on the album. Set to the melody of a Yiddish lullaby her late grandmother used to sing to her (no, seriously), it features slight backing piano tinklings and more accompanying strings, but keeps Lucy's vocals as the focal point.
"It was very easy," Lucy giggled of turning childhood lullaby to racy lounge track. "The thought of melodic, Eastern European melodies are just very sexy. I've always had that melody stuck in my head. So one day I decided to try to add some chords to it and funk it up. When I played it for Itaal (Itaal Shur–longtime friend and album collaborator) he said 'we could funk that up into a sultry, folksy lounge tune' so we just let that song do what it was meant to do."
While the "Hot and Bothered Sessions" will have Lucy at select dates in New York and Los Angeles, the consummate worker isn't resting on her laurels by any stretch. Having recently signed to Verve Records, she is already at work on her next major label offering.
Words By: Chris West
 
www.lucywoodward.com/