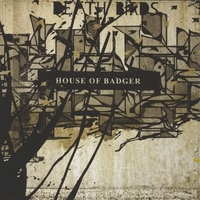 Acts which pursue that something extra within their music have a fine line to walk.
Go too experimental, you end up losing most of the people you're trying to reach 30 seconds into the first song. Not experimental enough — the music's basically irrelevant, not standing out in the crowd or more gimmicky than anticipated.
But those able to strike a balance can get their point across. As a result, you end up with music that expands the form while still being populist enough to draw attention.
Portland, Ore.'s House of Badger has, for the most part, found their balance. The trio has clearly superb musicianship, but they know their way around a good rock song and make the mix work well, right from the first note of "Vultures", the first track of their debut, "Death Birds".
Lead singer Amanda Kelly has a singer-songwriter timbre to her voice, which lends "Vultures" a softness but also a sense of foreboding, when combined with the sparse arrangement — built, as so many of House of Badger's songs are, around the remarkable drumming of Liam McNamara.
McNamara's skill brings to mind those drummers who tended to bring jazz elements into their playing, such as Stewart Copeland or Smashing Pumpkins' Jimmy Chamberlain. Around that, Kelly and Charlie Gallipeau build songs with instruments that range from the Middle Eastern to the antique.
These songs are wide-ranging in style and scope, from "You Give Yourself Away" and its power-pop underpinnings to the downright spooky atmosphere of "Death Birds in Trees". The only stumble — and it's a slight one — is the sameness that creeps into a song like "Away", but this is a nit, and House of Badger's first effort has good points that well outweigh the one bad.
Words By: Jonathan Tully
[Rating: 4/5]
Listen to "Vulture"
[audio:Vultures – House of Badger.mp3]