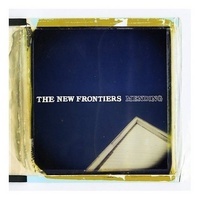 Naming your band The New Frontiers can be either a blessing or a curse. On the positive end, the name conjures up the impression that your band hopes to delve into new musical areas, both stylistically and lyrically. As for the negative, well, if the band does not accomplish just that, what's the point?
Keeping that in mind, a listen to Mending, the debut full-length CD by the Dallas indie rock band The New Frontiers, is rather enlightening but not necessarily in the way you think. Instead of going in the much-in-vogue route of loud guitars with catchy hooks, Mending features a bunch of emotional, atmospheric songs that are deceptively quiet but nonetheless effective.
Two of the more memorable tracks, "The Day You Fell Apart" and "Mirrors," are perfect representations of The New Frontiers' debut recording. Both songs feature singer Nathan Pettijohn's hushed, almost whispered vocals along with a low key musical arrangement. To keep things interesting though, Pettijohn and company have wisely added appealing elements to height the songs' emotions. For example, a lap steel is used impressively on "The Day You Fell Apart" and a nice group chorus enlivens "Mirrors."
Despite those gems, Mending loses its luster a bit after repeated listens because there is little variation to the songs' gentle sounds. The CD could use more uptempo songs like the opener "Black Lungs" and "Man Down".
Some also might complain The New Frontiers have not accomplished anything particularly new here. The songs' lyrics are straight forward tales about dealing with life's ups and downs and the atmospheric sound of the CD is similar to Brit-rock bands like Doves or the Verve.  
However, those complaints can not dull the real point of The New Frontiers' Mending which is to create an emotional listening experience. And on that end, the CD is successful as a listener can feel The New Frontiers' passion whether the songs are sad, thoughtful, or hopeful.
Words By: Todd Sikorski