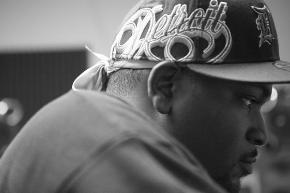 KOCH Records announces the release of The Villain, the new album by Detroit rapper Trick Trick, on November 11, 2008.   The album features such heavyweights as Eminem, Kid Rock, Ice Cube, Guilty Simpson, Paradime, Diezel, Esham, Guilty Simpson, and Royce da 5'9.
The lead single from The Villain, "Let It Fly" ft/ Ice Cube is produced by Trick Trick, and showcases his no-nonsense flow and boisterous delivery.   A video for "Let It Fly" featuring Ice Cube was recently shot and directed by Ghettonerd. The video will be serviced to networks and online portals shortly.  
Trick Trick handled most of the production duties on The Villain himself, while Enimem produced three tracks and Dr. Dre produced one song.   The album also includes "Together Forever," a Run DMC re-make featuring the late Proof, Kid Rock, and Detroit veteran Esham.
Describing The Villain, Trick says, "I wanted to make music that I feel good about, to bring some real music back to the game. Each track is designed for its texture of song, texture of writing. I wanted to do what I felt good about, not chase after the times. Music is Eternal so I might have a song that is rotten as f***, and there's a point to it. I'm making a statement. If you don't respect me, this is what I'm forced to do to you."
The Villain is the follow-up to his debut, The People Vs. Trick Trick which debuted at #1 on the Billboard New Artist Chart. Trick Trick has garnered a huge street following from his smash street single with Eminem "Welcome To Detroit" and since then has been widely regarded as the next big rap act to break out of Detroit.
Outside of rap, Trick has ties to various nightclubs in downtown Detroit, and is in the taste testing stages of his own grape lemonade-flavored energy drink called G-Punch, through Cintron Beverage Group. He's also set to appear in the upcoming films Cut Print and Gang Squad.