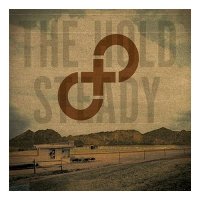 It has been two months since the critically adored rock band The Hold Steady released its latest CD entitled Stay Positive. When the recording was released, the hype began almost immediately and many people were wondering if the band was going to be the next big thing, especially considering the new recording was coming on the heals of 2006's Boys and Girls in America which many consider as one of the most underrated rock releases this decade.  
 
Well, here it is 60 days later and The Hold Steady remain a mostly cult band with a loyal following. Sure, Stay Positive has to be considered a success for an indie band as it reached #30 on the Billboard charts but that next big thing never materialized. So, with this in mind, here is a plea for music fans to give some love to the latest work by Craig Finn and the rest of The Hold Steady and why.
(First off, this has to be said. To fully enjoy Stay Positive, one must buy the limited edition of the CD because the three bonus tracks on it are required listening. Sure, the extra money for the extended version might be a downer but the horn-filled track "Two Handed Handshake" is worth the cash alone.)
So what is so good about The Hold Steady's latest CD? Stay Positive simply boasts some of the best rock anthems one will hear this year. The opener, "Constructive Summer," is pure guitar heaven with a perfect piano accompaniment. The next track, "Sequestered In Memphis," also rocks but a brilliant horn section and infectious hand claps make the song one of Finn's catchiest numbers ever. "Stay Positive" and "Slapped Actress" also are killer rock anthems.
Adding to the recording's luster are the pleasant surprises such as "Lord, I'm Discouraged" which starts off slow and then builds gorgeously with an inspiring guitar solo near the song's finish. Also, Finn and company mix things up musically by featuring diverse instruments such as the banjo and the harpsichord on "Both Crosses" and "One For The Cutters".
Best of all, however, just might be the songs' lyrics. Sure, Finn's singing style takes a little getting used to as it can be rough like early Bruce Springsteen but every word is heard perfectly. And just like the Boss, Finn tells stories about flawed characters in vivid terms. "We were wasps with new wings/Now we're bugs in the jar" from "Joke About Jamaica" is a typical impressive choice of wordplay in Stay Positive's songs.
Despite all of this praise, Finn and company have not created a masterpiece here. (They are close though.) There are a few songs that don't measure up to the others and they seem just like tracks from a good bar band. (A very good one though.) Also, some might complain that the production is too polished. Still, any band that mentions Joe Strummer in its lyrics and says he "might have been our only decent teacher" is one to celebrate.
Words By: Todd Sikorski