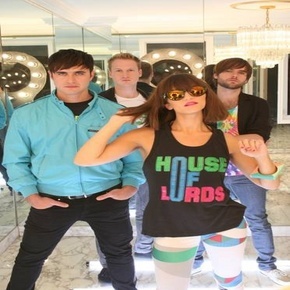 With a growing army of admirers and fans all over the world, now is your chance to witness what all the fuss is about. Bouncing from the East to the West coasts and destined to wow audiences with their revivalist new wave synth-pop, Toronto-based quadruplet, Dragonette, are now embarking on a much welcomed four-date mini-tour this fall in the United States.  
With the pending release of their refreshing debut album Galore (I Surrender Records through Red An Artist Development Company) out on October 28th, watch out for their dirty electronica beats and synths, trunk full of hooks, neon-doused live shows and downright naughty delivery and vocals by the bands star front woman Martina Sorbara.
9/18- The Mercury Lounge- New York, NY
(w/ The Major Labels, Oppenheimer)
9/19- Le Royale- New York, NY
(w/ Headman)
9/22- The Trobaudour- West Hollywood, CA   – SOLD OUT
(w/ Does it Offend You, Yeah? And DJ AC Slater)
9/23/08- Cinespace- Hollywood, CA
(w/ Does It Offend You, Yeah? And DJ AC Slater)
It's clear that this clever and glamorous cohesion of talent and shameless honesty is exactly what will take Dragonette beyond the realms of any hipster hyped about band (even though they have all the right factors that equate to any partygoer's dream night out) and carry them into the mainstream superstar arena through out 2009.
The band, which was named after the singer's ipod, possess an edgy dance rock sound with a bubble-gum pop lining. Lead vocalist and sultry siren, Martina, formed the band in 2005 when she met her future bassist, and future husband, Dan Kurtz at a canadian music festival. Martina, with her poppy songstress vocals and deep desire for some driving eccentric pop dance beats, eagerly agreed to leave behind her sucessful solo career and form what was originally just the dynamic duo, Dragonette.
First Single "I Get Around":
"I Get Around"
[youtube wQwJOVOtZpY nolink]
"We met at a Canadian music festival we were both playing at," Martina explains "and then we screwed."
"And then I left my girlfriend." states Dan.
The rest was, as we say history and Dragonette was born.
Later on in that year, Joel Stouffer (drums) and Will Stapleton (guitar) rounded out the line-up and they were soon asked to open up for Duran Duran's US tour after only being a together for eight months.
"Galore" which was produced by Dan Kurtz himself (who also produced Feist's critically acclaimed Monarch (Lay Your Jewelled Head Down) just prior to forming the band). Their debut single off the album, "I Get Around," recently hit the Top 20 in Canada and the ridiculously infectious "Get Lucky," reached global status, as after it was synched to fifteen major movies and advertising campaigns in the United States.
The band has played everywhere from dingy underground hipster clubs to festivals like Glastonbury and The Virgin Music Festival; and Martina has already achieved pop-star status, as she wrote and sang lead vocals on Basement Jaxx's hit single, "Take Me Back to your House." Dragonette has also been nominated for a Juno Award for Best New Group.  
With songs reminiscent of those ranging from bands such as The Eurythmics and The Cars, Dragonette is sure to spark the interests of many a teen girl and boy as much as they would, your suburban housewife or club kid queen. Their music and live shows can ultimately be described as "a world of guilt-free pleasure mixed with 80's party prowess". Eclectic and exciting, stretching from sunny-day folk to hard driving dance rock, this is music for the masses at it's finest.
Dragonette is a glamorous masterpiece that is sure to appeal to all so don't miss them this September!