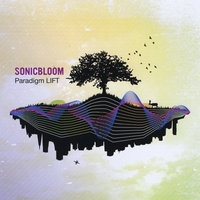 Riding on the wave of hip hop intelligencia, Sonicbloom with their second self produced CD, Paradigm Lift, is not afraid to mix electronica with a diverse array of introspective songs that have a wonderfully reflective, hollow and almost dark overtone. Much like the Bad Fathers, Nate Dogg, and some of their contemporaries such as Sole, Aesop Rock, and Hieroglyphics; Sonicbloom elegantly blends a perfect mix of samples, real instrumentation, and turntablism with a swank jazz influence.
     
"Firewalk" opens the album with a dark gritty style that is prime for mainstream radio play. Stripped down and simple, overcompressed and heavy bassline with haunting female vocals improvisation floating in the background- it definitely caters to the hip hop club scene and would make any crowd bounce.   "Be Here Now"   is by far the best track on the CD, as the bass is layered with the most empty, lonely sounding keyboards.
Best line of the song is, "I'll never leave cloud nine without my parachute.." It is clear by the middle of the song that Sonicbloom put their heart and soul into making a real, personable record that can reach a wide variety of listeners, even those who don't always listen to hiphop. "Under the Table" has some sick saxaphone notes that sear the ear and bring a confidence to the distorted, wah-wah guitar.   "Nobody Knows"   starts off with a woman speaking sample repeating "nobody knows the answer to my rhymes," before the song breaks into a lush, carefree downtempo groove with delicately spaced notes on the bass, rhodes keyboard, horns, and chimes into a weaving laidback melody that is very reminiscent of the French downtempo scene lead by DJ Cam or the NewYork Style Rockers Hi-Fi.   "Extra Extra" returns back to the basics of hip hop, with a focus on the vocals, yet in most situations where the such a song would go unnoticed, the best lyrics of the whole album are nestled inside this piece.
     
Sonicbloom brings a refreshing live instrumentation to the standard lyricist style to create a new, soulful, and honest look at hip hop. The only main disappointment is that out of the eighteen tracks, the live instrumentation and distinct lyrics, falls apart just after "Extra Extra," making most of the rest of Paradigm Lift, background music and a little bit too abstract and dissonant to listen to. However, even there, "Lifetrons" save the last eight tracks with a creaking, deep bass that picks up the listeners attention again. Lastly, the album ends on a high note with "Revolution Sound" bringing back the catchiness of the earlier tracks. Overall, a solid, super confident masterpiece and definitely worth the buy.
Words By: Whidden Lee Flores
[Rating: 3.5]