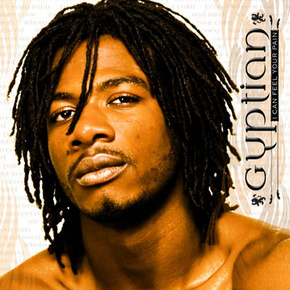 On October 21st, 2008, Gyptian unveils his long-awaited sophomore release I Can Feel Your Pain on VP Records.  
Evolving into a world class singer, Gyptian masters his timbre with his distinguished falsetto and innate ability to connect with his listeners, hence the reason for his album title. From newcomers Imran "Fire Peter" Passard, John "FX" Crawford, Livity Movements and Ray Stephens to fellow production partner Kemar "Flavor" McGregor, this carefully constructed narrative meshes live one drop roots instrumentals and contemporary digital production with inflections of reggae, r&b, pop and rock.
With his real life depictions of ghetto hardships and love, Gyptian will strike a chord with his listeners on this 14 track collection.   He opens with bittersweet laments, "Keep Your Calm" (Kemar "Flava" Mcgregor) then "Nobody No Cry" (Ray Stephen for Vertex Productions), painting a portrait of Jamaica's devastatingly violent and corrupted landscape blended with rays of hope and resolution. His love songs are just as thought-provoking and sensitive. With charisma and grace, Gyptian's voice floats effortlessly over the whimsical r&b tinged roots single "Where's My Baby" (Livity Movements) and the title track produced by   Imran "Fire Peter" Passard and FX Music, which is currently riding the reggae charts. Other standout tracks include the hypnotic one drop smoker's anthem "Sensi" (Ray Stephens) and the melody driven tribute "Thanks and Praise" (Imran "Fire Peter" Passard).    
SEE MORE ON GYPTIAN: