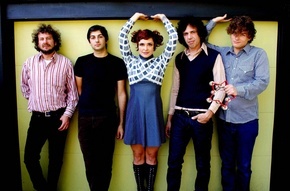 After their critically acclaimed last album, Electrified, Dressy Bessy will release its highly anticipated new album, Holler And Stomp, on September 16th, 2008 via Transdreamer Records.
Combining uber-indie sensibilities mixed with bombastic style, the band remains inspirational, hook-laden and upbeat. 13 songs will have you dancing and singing in seconds.
Dressy Bessy are about power-pop chords, a dancing rhythm section and the compelling vocals of Tammy Ealom. Her witty lyrics hug the addictive melodies with true style. Backed by guitarist John Hill, whose guitar work helped propel Apples In Stereo to the forefront of the indie rock world and the thundering rhythm section of bassist Rob Greene and drummer Craig Gilbert — Dressy Bessy have the true spirit of underground rock.
"Simple Girlz"
US Fall Tour
September:
9/13- Monolith Music Festival, Red Rocks Amphitheatre, Morrison, CO
9/19- Replay Lounge, Lawrence, KS
9/20- Vaudeville Mews, Des Moines, IA     NOTE: 2 Shows, All Ages and 21+
9/21-   The Picador, Iowa City, IA
9/22- Bottom Lounge, Chicago, IL
9/23- Grog Shop, Cleveland, OH
9/24- Club Cafe, Pittsburgh, PA
9/25- Arlene's Grocery, NY, NY
9/26- Union Hall, Brooklyn, NY
9/27- Talking Head, Baltimore, MD
9/28- T.T. The Bear's Place, Cambridge, MA
9/30- Black Cat (Backstage), Washington, DC
October:
10/1-   The Saint, Asbury Park. NJ
10/2-   941 Theater, Philadelphia, PA
10/3- Charlottesville, VA
10/4-   Tin Roof, Charleston, SC
10/5-   Pirate's Cove, Myrtle Beach, SC
10/7-   Smith's Olde Bar, Atlanta, GA
10/9-   40 Watt Club, Athens, GA
10/10- The Nick, Birmingham, AL
10/11- The End, Nashville, TN (NOT w/Casper & The Cookies- supporting The Evangelicas)
10/12- Young Avenue Deli, Memphis, TN
10/14 – Sticky Fingerz, Little Rock, AR
10/15- Hailey's, Denton, TX
10/16- Emo's Lounge, Austin, TX
10/17- Opolis, Norman, OK
10/18- Bluebird Theater, Denver, CO   CD Release Show
 10/24- The Whole Music Club, University of Minnesota, Minneapolis, MN
10/25- The Cave, Carleton College, Northfield, MN
10/26- Draught Haus, Winona, MN
10/28- The Aquarium, Fargo, ND (supporting Blitzen Trapper)
10/29- The Turf Club, St. Paul, MN
10/30- Blue Devil Lounge, University of Wisconsin, Stout, Menomonie, WI
10/31- The Duck Room, St. Louis, MO
November:
11/1- The DuKum Inn, Kirksville, MO
11/2- Abbey Pub, Chicago, IL
11/5- Frankie's Inner-City, Toledo, OH
11/6- Bernie's, Columbus, OH
11/7- The Belmont, Detroit, MI
11/8, Al's Bar, Lexington, KY