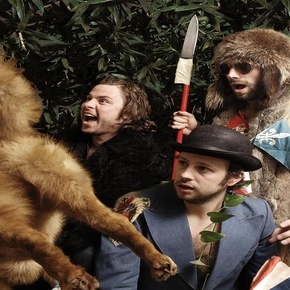 Plants and Animals announce a co-headlining tour this fall with fellow Canadians, Born Ruffians.
Based in Montreal, Plants and Animals are nominated for the esteemed Canadian music award, Polaris Music Prize, and will perform at the official gala on September 29, 2008 at Toronto's Phoenix Concert Theatre along with Black Mountain and Holy Fuck. Other nominees include Stars, Caribou and The Weakerthans.
This summer, Gnarles Barkley's Danger Mouse personally asked the band to open for them. In August, Plants and Animals played with The National and Yeasayer in NYC's Central Park. Rapidly gaining a reputation for their fervent live shows, Montreal's Plants and Animals have also shared bills in America with The Whigs (February 2008), with Wolf Parade (August 2007), with Rock Plaza Central (May 2008), plus many caught the band during their 3 sets during the 2008 SXSW.
To sample the band live, check out "Faerie Dance" performed on Pitchfork.tv:
"Faerie Dance" MP3 can be heard here:
TOUR DATES
Thu               09/18/2008 The Horseshoe                                                 Toronto, ON
Sat               09/20/2008 LOLA Fest                                                                 Victoria Park   London, ON
Thu               09/25/2008 The Black Sheep Inn                                 Wakefield, QC
Fri               09/26/2008 The Montreal House                                 Peterborough, ON
Sat               09/27/2008 The Casbah                                                                 Hamilton, ON
Mon         09/29/2008 Phoenix Concert Theater               Toronto, ON (Polaris Music Prize Show)
Wed               10/01/2008 The Crofoot Ballroom                                 Pontiac, MI*
Thu               10/02/2008 Club 770                                                                 Madison, WI*
Sat               10/04/2008 Pyramid Cabaret                                                 Winnipeg, MB*
Mon               10/06/2008 Amigo's Café                                                   Saskatoon, SK*
Tue               10/07/2008 Starlite Room,                                                 Edmonton, AB*
Wed               10/08/2008 The Warehouse                                                 Calgary, AB*
Fri               10/10/2008 Richard's on Richards                                 Vancouver, BC*
Sat               10/11/2008 Sugar Nightclub                                                 Victoria, BC*
Sun               10/12/2008 Chop Suey                                                                   Seattle, WA *
Mon               10/13/2008 Holocene                                                                 Portland OR*
Wed               10/15/2008 Bottom of The Hill                                                 San Francisco CA*
Thu               10/16/2008 Spaceland                                                                   Los Angeles CA *
Fri               10/17/2008 Casbah                                                                 San Diego CA *
Sat           10/18/2008 Modified                                                                 Phoenix AZ *
Mon               10/20/2008 Emo's                                                                                 Austin TX*
Tue               10/21/2008 Spanish Moon                                                 Baton Rouge LA *
Wed               10/22/2008 The Earl                                                                 Atlanta GA *
Thu               10/23/2008 Local 506                                                                 Chapel Hill NC *
Fri               10/24/2008 Rock and Roll Hotel                                 Washington D.C.*
Sat         10/25/2008 Talking Head                                                 Baltimore, MD*
Sun               10/26/2008 Johnny Brenda's                                               Philadelphia, PA*
Mon               10/27/2008 Mercury Lounge                                                 New York, NY *
Tue               10/28/2008 Union Hall                                                                 Brooklyn, NY *
Wed               10/29/2008 Paradise                                                                 Boston MA *
Wed               11/05/2008 Théâtre Petit                                                 Champlain Quebec, QC
* w/ Born Ruffians