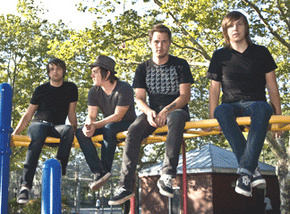 For most bands, releasing their first album comes with a lot of anxiety and uncertainty. For Atlanta's THE STATUS, there's a dose of that, but from the sound of their Doghouse Records debut SO THIS IS PROGRESS (release date: October 7, 2008), the unmistakable sound of confidence flows freely.
While a tiny fraction of their strength may lie in who they know (Adam Lazzarra of Taking Back Sunday and Anthony Raneri of Bayside lend their backing vocals to two songs), 99% of their determination lies in their tightly-wound, hyper-melodic pop rock that has already spawned a radio hit in their single "Perfect Day" on Atlanta's influential station 99x. "That song set the tone for what we wanted to do as a band," says vocalist/guitarist Ben Grant. "It's about taking that chance on love, or just life in general because the risk is worth more than the not knowing."
So This Is Progress was produced by Kenny Goia and George Fullan (Bayside, Mandy Moore, Taking Back Sunday) and will be released on Doghouse Records on October 7, 2008. The Status will be supporting Bayside along with The Matches and Valencia on the Involuntary Movement Tour this Fall.
The Status Tour dates with Bayside
* denotes dates without Valencia
OCTOBER
7th Cleveland, OH – Beachland Ballroom
8th Detroit, MI – St Andrews Hall
9th Chicago, IL – The Metro
10th Minneapolis, MN – Triple Rock Social Club
11th Lawrence, KS – Granada Theater
12th St Louis, MO — Pops *
14th Denver, CO – Cervantes
15th Salt Lake City, UT – Avalon Theater
17th Seattle, WA – El Corazon
18th Portland, OR – Hawthorne Theater
19th San Francisco, CA – Slims
20th San Francisco, CA – Bottom of the Hill
22nd Pomona, CA – Glasshouse
23rd Los Angeles, CA – The Troubadour
24th Las Vegas, NV – Jillians
25th San Diego, CA – House of Blues
26th Phoenix, AZ – Brickhouse
28th Tulsa, OK — Marquee *
29th Dallas, TX – The Palladium
30th San Antonio, TX – White Rabbit
31st Houston, TX – Java Jazz
NOVEMBER
1st New Orleans, LA – House of blues
3rd St Petersburgh, FL – State Theater
4th Ft Lauderdale, FL – Revolution
5th Orlando, FL – House of Blues
6th Atlanta, GA – The Loft
7th Greensboro, NC – Greene Street Club
8th Norfolk, VA – The Norva
9th Baltimore, MD – Recher Theater *
11th Buffalo, NY – Club Infinity
12th Foxborough, MA – Showcase Live
13th Hartford, CT – Webster Theater
14th New York City, NY – Irving Plaza
15th Philadelphia, PA – The Trocadero *
16th Asbury Park, NJ – Stone Pony