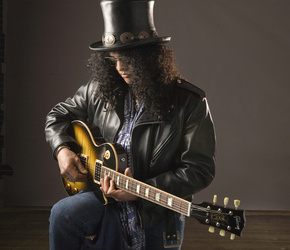 Gibson Guitar and Epiphone announce the new Slash Les Paul Goldtop guitar models. In keeping with the Olympic theme of instilling a spirit into every element, Gibson and Epiphone goes for the "Gold" with the special limited edition guitar inspired by Slash, the modern-day legend and most recognizable guitarist in the world today.
Gibson USA 2008 Slash Les Paul Images:
The new Slash Epiphone Les Paul Goldtop is limited to just 2,000 guitars worldwide and are built using many of the same traditional guitar building processes and techniques that have made Gibson's family of stringed instruments the absolute finest in the world. Each Epiphone Les Paul Slash Goldtop is built to the meticulous standards by skilled craftsman who create and assemble the various parts of each individual guitar. The Epiphone model starts with the traditional Les Paul body consisting of a hand-selected premium solid mahogany back based on historically correct specifications and topped with A-grade maple. Using a traditional roller-type carving machine, Epiphone has tediously carved each body creating the sexy curves and subtle "dish" along the outer edge of the top that transforms it into an authentic Les Paul.
The neck is crafted from premium mahogany then glued into the body using a TiteBond ® wood glue, utilizing a long-neck tenon typically found on the Les Paul models from the late 1950s and early 1960s. This provides additional strength which ultimately results in sweeter tone and longer sustain. The neck also features a "Slash Custom" neck profile patterned exclusively from the neck on Slash's original Les Paul and a Rosewood fingerboard fitted with 22 nickel/silver alloy medium-jumbo frets. The pickups are the same ones used by Slash in many of his Les Pauls — Seymour Duncan Alnico Pro-II — providing the same crunch, power and performance as Slash when he cranks it up on stage.
The finish on the new Epiphone Les Paul Slash Goldtop is the same finish introduced on the original Les Paul of 1952. The labor intensive process of applying the finish is unprecedented and supports Gibson and Epiphone's commitment to Go for the Gold throughout every step of production of this special guitar model. Other specs include Epiphone's patent-applied-for LockTone Tune-o-matic and stopbar tailpiece, vintage nickel hardware and tulip-button tuners, fully shielded electronic cavities, 12 inch radius fingerboard, custom "Slash" truss rod cover and the stamped "Limited Edition" logo on the back of the headstock. Each guitar comes with a special hardshell case featuring a custom Slash logo, a certificate of authenticity personally signed by Slash with a limited edition HD laser-cell print of Slash housed in a beautiful leatherette presentation booklet with the Slash logo embossed in gold on the cover. Also included is a custom Slash-inspired leather, metal-studded guitar strap and 24 custom Slash guitar picks.