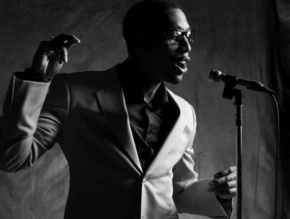 In an era where any teenager with ProTools can compose an opus on his laptop, it is altogether rare to encounter a wholly live, sample-free, recording such as Raphael Saadiq's THE WAY I SEE IT (due September 16th on Columbia Records).
Particularly one that is a fully realized oeuvre; from the opening snare shots of "Sure Hope You Mean It" through the last string strains of the piece de resistance "Sometimes," the artist takes us on a journey that is like a lush feature film, not a string of hackneyed trailers.
And his timing couldn't be better. While plenty of ink has been spilled lauding various upstart 'Queens of Retro-Soul' from across the pond, Saadiq has lovingly synthesized the essence of the various regional scenes that underpin our best music – Motown, Stax, Chi-town, Philly – and seamlessly spliced in surprising aesthetic choices (an industrial vocal filter here, a Spanish vocalist there) that clearly earmark THE WAY I SEE IT as, literally, state of the art.
100 Yard Dash – full (WM, Streaming, 96k, Audio):
Staying In Love – full (WM, Streaming, 96k, Audio):
Big Easy – full (WM, Streaming, 96k, Audio):
First single "Love That Girl" lays it down with a club-ready update of classic Temptations-era swing – right down to the impeccable strings and Saadiq's clarion, falsetto vocals. In an album full of high points, "Never Give You Up" slays with its multi-generational line-up: the track includes Raphael's musical protégé C.J., as well as the legendary Stevie Wonder on harmonica. And the quick-paced shuffle of "Big Easy" finds Saadiq longing for a child lost in Hurricane Katrina with classic honky tonk flair replete with overlapping horn solos.
The album's inspiration was indeed global. "I was cooling out and surfing in Costa Rica and The Bahamas," recounts Saadiq, "and ran into people from all kinds of places. I noticed everybody was listening to classic soul music. When I came back home the music for this album flowed organically, naturally. Since I have my own studio, I was able to perfect it, take my time to make it right. I was able to live with it, day after day and that had a lot to do with how the album turned out."