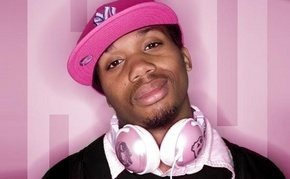 Already critically-acclaimed debuting Interscope recording artist, Charles Hamilton, joins forces with the top hip-hop and urban music blogs on the web along with leading social media network imeem.com, to create "The Hamiltonization Process."
"The Hamiltonization Process" is a 3-month, 8-site tour that begins on Tuesday, September 2nd on okayplayer.com and ends on Tuesday, December 9th on onsmash.com.   An insightful trailer for "The Hamiltonization Process" can be viewed at www.iamnotcharleshamilton.com.
 
"The Hamiltonization Process" is designed to demonstrate Charles Hamilton's prolific musical talent as well as showcase his versatility and creativity.   The tour will travel in cyberspace instead of the conventional on-the-road style of touring in an effort to reach close to two (2) million unique visitors combined instead of thousands potentially going city to city. New music from Charles Hamilton will be premiered exclusively on each site for two weeks using embedded imeem playlists to give the listener a steady flow of what's new with Charles Hamilton.   After the two weeks the music will be circulated to the other participants of the tour.   Fans can use imeem's embeddable widgets to stream Charles Hamilton's playlists on their own blogs and social networking profiles.  
 
The new music for the tour will be provided by DJ Skee, Charles Hamilton's official DJ, who will mix and present the music to the participants.   In addition to new music being released, Charles Hamilton will provide the visitor a peak into his daily life.
You can see for yourself by visiting sites on these tour dates:
 
You can see for yourself by visiting sites on these tour dates:
 
Tuesday, September 2, 2008                                                                    
www.okayplayer.com
Tuesday, September 16, 2008                                       `                        
www.youheardthatnew.com
Tuesday, September 30, 2008                                                                  
www.nahright.com
Tuesday, October 14, 2008                                                                      
www.2dopeboyz.com
Tuesday, October 28, 2008                                                                      
www.xclusiveszone.blogspot.com/
Tuesday, November 11, 2008                                                                  
www.smokingsection.uproxx.com/TSS/
Tuesday, November 25, 2008                                                                    
www.realtalkny.uproxx.com/
Tuesday, December 9, 2008                                                                      
www.onsmash.com
 
www.imeem.com/charleshamilton