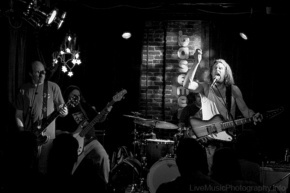 Grayson Capps & The Stumpknockers launch an East Coast tour in September to support their new album, Rott 'N' Roll (due Sept. 9 on Hyena Records). Upon returning home in October, they'll play dates throughout the South before heading to Europe for three weeks in November.
Produced by Grammy Award-winning producer Trina Shoemaker, Grayson Capps burns harder than ever on his fourth album. Raucous numbers like "Big Black Buzzard," "Sun Don't Shine On Willy" and "Going Back To The Country" are electric roadhouse diamonds in his repertoire. An earthy, introspective side also comes through on songs like "Arrowhead" and "Guitar." In early reviews, Hear Ya Blog noted, "Grayson Capps is part country singer, part bluesman, part preacher, part vagabond and part poet," while Swampland declared, "Grayson Capps & The Stumpknockers play knock-down-drag-out-whiskey-laced rock and roll as if it were the last call for their souls to be saved."
Eat Cornbread, Raise Hell & Download an mp3 of "Back To The Country":
The title of Grayson's latest long-player, Rott 'N' Roll, originated in New Orleans as a phrase used by fans to describe the raw energy of songs that mix backwoods rock, southern soul and country blues with tales of prostitutes, alcoholics, drifters and paranoia. Having drawn comparisons to the likes of Tom Waits, Townes Van Zandt and Drive By Truckers, Rott 'N' Roll proves that Grayson's vision is ultimately as singular as those to who he's compared.
Upcoming dates are:
September 11 / Grimey's / Nashville, TN (In-Store Performance–6PM)
September 12 / WFPK "Live Lunch" / Louisville, KY (Noon)
September 12 / Ear-X-tacy / Louisville, KY (In-Store Performance–6PM)
September 12 / Gerstle's Tavern / Louisville, KY
September 14 / The Purple Fiddle / Thomas, WV
September 17 / Idlewild / Henniker, NH
September 18 / Penuche's / Concord, NH
September 19 / Nectar's / Burlington, VT
September 20 / Fletch Fest / Warner, NH
September 21 / Idlewild / Henniker, NH (SOLD OUT)
September 24 / The Lizard Lounge / Boston, MA
September 25 / The Hungry Tiger / Manchester, CT
September 26 / Banjo Jim's / New York, NY
September 27 / World Cafe Live / Philadelphia, PA
October 10 / Pirate's Cove / Josephine, AL
October 12 / Callaghan's Irish Social Club / Mobile, AL
October 13 / The Strutting Duck / Auburn, AL
October 16 / Bennie's Boom Boom Room / Hattiesburg, MS
October 17 / DBA / New Orleans, LA
October 25 / Little Willie's / Tuscaloosa, AL