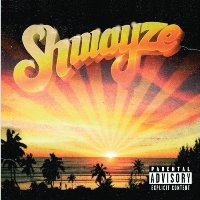 Listening to Shwayze's self titled debut is like eating fried Oreos doused in powdered sugar. The album's candied songs about girls, relaxing, getting high, and California aren't sophisticated or innovative, just wonderfully delicious.
Laid back and warm, Shwayze's songs taste like summer. Adorable Malibu rapper Shwayze and long haired producer/acoustic guitarist Cisco Adler (Lou Adler's son) blend simple chords with a combination of chilled rap and singing. The result is a group of songs about doing absolutely nothing with your life and loving it.
In "Hollywood" Shwayze proudly declares that he rhymes for the purpose of "vagina, dog," claiming, "the other stuff bores me like a monologue." Other lyrics are similar in their lack of profundity. Still, lounging around and partying sounds dangerously enticing.
In our lives of chaos and responsibility Shwayze is like that much needed fix of a fresh beach breeze. The duo deploys endless hooks, even in their most serious track on the album. "James Brown is Dead," Shwayze's commentary on the death of good hip hop, takes the end of a coveted lifestyle and makes it seem trivial.
But maybe that sort of disregard for what's wrong in the world is the beauty of Shwayze. Even if your life is crumbling around you, there's always the sanctuary of Shwayze's easy, fast paced lullabies.
All in all, you might be safe calling Shwayze the LFO of the new millennium. Often silly but always chock full of hooks, right now the group in is ubiquitous rotation on MTV. The duo has cultivated an enthusiastic following, but in a year or so the honeyed tracks of Shwayze might not be anything to tout.
Still, Shwayze's self titled debut will surely define the summer of 2008 for quite a few people. And even if listening to Shwayze might lose it's cool appeal, these easy going sounds of Malibu are too sweet to leave behind completely. You might not be able to tell your friends, but a little Shwayze will always taste wonderful, like those fried Oreos you just can't resist sneaking during summertime carnivals.
Words By: Lauren Proctor