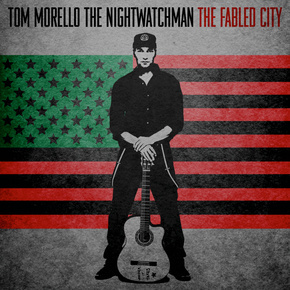 Tom Morello of Rage Against the Machine is set to release the solo album, The Fabled City, September 30th, 2008 via Epic Records.
The 11-song set is the anticipated follow up to the 2007 The Nightwatchman debut One Man Revolution. Now being billed as Tom Morello : The Nightwatchman, the album is the first release to bear the political and social activist's birth name. The Fabled City was produced by Brendan O'Brien (Bruce Springsteen, Pearl Jam) and features appearances by System Of A Down's Serj Tankian and Shooter Jennings.
In addition to his career as a critically acclaimed solo artist, Tom Morello is a founding member and guitarist of the rock bands Rage Against The Machine and Audioslave. The two bands are responsible for multiple Grammy Awards and a combined 30 million albums sold worldwide. Widely known for his unique voice as a master electric guitarist, his compositions as Tom Morello : The Nightwatchman have been primarily based around the acoustic guitar. However, as his Myspace page firmly states, "You don't have to be loud, son, to be heavy as shit," and the stories and sounds presented throughout the album showcases a depth and intelligence rarely heard in the modern musical climate surrounding it. With more complex electric arrangements than displayed on One Man Revolution, The Fabled City is the synthesis of his groundbreaking work as an innovative rock guitarist and revolutionary acoustic troubadour.
The Nighwatchman stream widget:
When describing The Fabled City, Morello stated "My goal was to capture the energy and emotion of The Nightwatchman live shows. There is a much more rocking quality to this record, solos and riffs, mixed with darker acoustic songs. I think my singing has come a long way as well. I had a lot of devastating losses of family and friends during the past two years and The Fabled City is a search for hope through music and confronting injustice."
Tom Morello : The Nightwatchman The Fabled City Track Listing:
1. The Fabled City
2. Whatever It Takes
3. The King of Hell
4. Night Falls
5. The Lights Are On In Spidertown
6. Midnight In The City of Destruction
7. Saint Isabelle
8. Lazarus On Down featuring Serj Tankian
9. Gone Like Rain
10. The Iron Wheel featuring Shooter Jennings
11. Rise to Power
www.Myspace.com/thenightwatchman