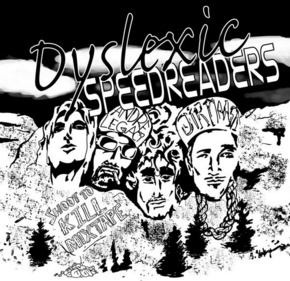 What happens when two Hollywood rappers team up with a cracker from Oakland? Ghetto beats and gnarly rhymes slap you in the face. Andre Legacy, Mickey Avalon, and Dirt Nasty (aka Simon Rex) combine to make the best rap crew in the continental U.S. (including Hawaii and Puerto Rico ).
With the recent addition of Beardo to the crew, the Dyslexic Speedreaders have taken the underground hip hop scene to another level.
After traveling together and selling out shows all over the world, the Dyslexic Speedreaders have collected enough material to put together a new compilation with production by the likes of Cisco Adler, Mark Ronsen, Dirt Nasty, and others. This highly-anticipated mix of never heard before material will be released to fans worldwide free, via the Internet on September 1, 2008.  
Adding even more to the appeal to this mix of new songs by the same group that came out with the cult hit "MY DICK," is the inclusion of celebrity drops. The never heard before songs will be complimented by the   endorsements from their celebrity fans from the likes of DJ AM, Adrian Brody, Paris Hilton, Andy Milonakis, Kimbo Slice, Ron Artest, Lil Jon, Travis Barker, Perez Hilton, Mark Ronson, among others.  
For the Dyslexic Speedreaders, giving back to their fans has never been so "cracker-ass fantastic!"
Dyslexic Speedreaders to Release FREE Star-Studded Mix:
Artwork By: Steve Shakes