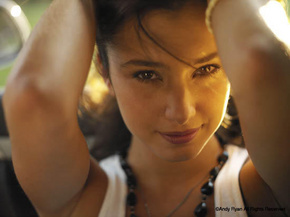 So picture this. You are 21 years old and living in Los Angeles. Your dream is music and your drive is unstoppable. You put off college and devote your life to your dream. One day the phone rings and it's Interscope Records looking to sign you. Now allow me to introduce Tamar. Tamar defines an artist on the cusp and she has a hit song, "New Day" to back it up. Get to know Tamar before the masses do.
Stoli: Congrats on recently signing to Interscope! How long were you pushing your demo before Jimmy Iovine signed you?
T: I spent a lot of time writing this record. It was important that I figured out what I wanted and didn't want to do both musically and artistically before approaching labels with this new material.
Everything with Interscope really seemed to fall into it's own place.They believe in artistry and in allowing their artists to take chances. So it felt like the right home.
Stoli: You have looks that could make you a model. How did you end up wanting to pursue music?
T: Thanks for the compliment! :) I grew up listening to Billy Joel and all the classic 60's/70's records my dad would play around the house.
I loved entertaining since i was very little and singing was just something that came very naturally for me. I always had this innate feeling that i would end up in music.
Stoli: Your songwriting is very deep & personal. How much does your real life trials with love end up in your music?
T: When I'm writing — I'm very much inspired by the sagas in my life and in the lives of people around me. :) You always want the song to come from an honest place.
But it's once a song is finished that it takes a whole other form. A song should mean something personal to the person listening, not just to the person who is singing it.
So you hope– that the message you initially starting writing about transcends, both in meaning and interpretation.
Stoli: Your song "New Day" is a bonafide hit. What does that song mean to you?
T: "New Day" is about change, hope, self-discovery, and about admitting to your own mistakes.
"New Day" Video:
[youtube XBtU8POWZgA nolink]
Stoli: At your age many others are in college. What convinced you to pursue music full time?
T: I think education is really important.
It's funny– because every time i have been scheduled to go back to school– something amazing has happened on the music front. It's definitely something I look forward to finishing later in life.
I believe in pursuing a dream. An opportunity of this kind happens once in a lifetime. So at this point in my life, I feel like it is the right road to take.
Stoli: What were some of the challenges that you faced trying to break in the biz?
T: Haha.   That would be an endless list of setbacks and heartaches that would never fit within the confines of this interview.
Stoli: You are also an actress and will appear in the movie 'Lie To Me'. What is your plan in regards to acting and are you comfortable doing both music & movies?
T: I really enjoy acting, but at this point in my life, I'm really dedicating myself to my album. I think when the time is right, I'd love to do another film.
Stoli: Now that you are signed, how would you say that your life has changed the most?
T: Well, it's just been an amazing experience so far with Interscope because they are completely behind my vision and letting me make the kind of record I want to.   For that I am so grateful.
Stoli: If you were to give advice to others who look up to you and want to be in music, what would you tell them?
T: Be yourself, stick to your guns, don't let anyone tell you who you're supposed to be.
Stoli: You have diverse musical tastes. Who are your top three songs on your I-Pod besides your own?
T: Currently listening to:
1. All For Leyna– Billy Joel
2. #1 Summer Jam– Butch Walker
3. Reason Why– Rachael Yamagata
Stoli: You play out alot in LA. What is your favorite venue and why?
T: I love playing at Hotel Cafe in Hollywood. It has a really great vibe and people go there to enjoy and to discover new music.
Stoli: Besides money & fame, what drives you everyday to create music and chase your dream?
T: You know, it's kinda like therapy, really. Not sure how I'd get through the day without writing it all out.
Stoli: After you found out you were getting signed, who did you call and how did you feel?
T: My A&R guy took me out to lunch directly after the big meeting. The first thing I did was rush to the bathroom to call my parents. I was beyond ecstatic.
Stoli: What can we expect from Tamar for 2008 & beyond?
T: World domination:)