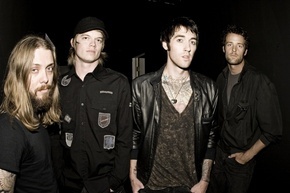 War Stories do what they do for the unconditional love of music. They focus all time and energy on writing timeless music that connects them with the listener providing opportunities of perspective, reflection, and questioning.
With sincere lyrics and swells of emotionally charged conviction, singer Evan Robinson's voice translates the band's meaning with uncompromising honesty. On tracks like "Lion" as well as "What Does God See" and "Beautiful" there is no mistaking the intent and promise of this band.
War Stories has experienced the suggested promises of 'stardom' having been courted by major labels, power agents, and gratuitous managers of a dying breed. As described in the lyrics of "Rage" reality was revealed and truth discovered after the band signed to Columbia Records. They believed in the opportunity as it was told, recorded their songs, toured with Augustana and Kasabian, then received the abrupt ending two months before the scheduled release of its debut album.  
"We were half way through our tour with Kasabian," Evan recalls, "and we got a call from our management telling us we were dropped before our album even hit the shelf."
WINDOWS MEDIA AUDIO:
WAR STORIES – "LION":
WAR STORIES – "WHAT DOES GOD SEE":
Track Listing:
1. T.V
2. Lion
3. Take Me Everything
4. What Does God See
5. Look to the Stars
6. Rage
7. Because I Love You
8. New Lovers Voice
9. Insanity
10. Cold Rain
11. Without Love