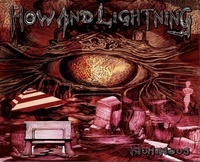 It is difficult to create a fluid progressive rock band that does not sound drone-like, noisy, and rambling, while retaining a mainstream sensibility. How & Lightning does just that. Numious is brave start from one of the most unique unsigned rock bands to come out of Seattle in the past few years. Dark, brooding, and suspenseful, the guys of How & Lightning tip their hats to the founders of progressive rock in the seventies while adding a new, almost European tribal metal meets Indie sound. Although the album starts off a little roughly and nervously, within half way through the first track, "Native," Numious quickly blooms into a beautifully crafted rock masterpiece. "Mallard" and "Falling Ashes" are prime for FM and college radio, starting with an extremely infectious but somber piano riff and breaking into thundering drums, warm guitars, and hovering drawn out notes. The recording quality of the drums and vocals, particularly the room ambiance, is so clear and crisp that it reminds you very much of an old school Led Zeppelin album.
 
It takes a while to get used to singer, Paul Steiner's almost operatic vocals, but after a song or two, the listener finds that it adds a unique twist and flavor to the band that other modern day rock bands don't have. By their next album all the faltering notes and moments of unsure ness where the vocals don't quite fit the songs- will definitely disappear. Their sound is so tight, well thought out, and one of a kind that they surely immediately draw the attention of anyone who hears them. Lyrics are personal, introspective, bleak, and easily relatable while also blending in to give way to the thrust of the music. The best song on the album is "Hong Kong". It feels the most sincere and personal out of all of the pieces. The lyrics are private and meant for someone whom the singer apparently didn't have time for, while the guitars are lush with an almost liquid dreamy quality. How & Lightning at times almost reminds the listener of an American, darker version of Stratovarius or Helloween meets Tool or a morose, bastard version of Pink Floyd.
 
From their eight minute solos and intense jam outs to their precise radio hits, How & Lightning has it all; and, like a good wine, will only become more rich with wine.
IF YOU LIKE: Evergrey, Led Zeppelin, Cream, Tool, Franz Ferdinand
Words By: Whidden Lee Flores
[Rating: 4/5]