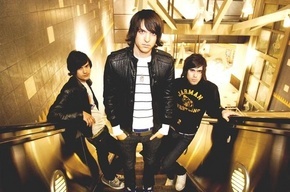 L.A. pop rock outfit, EVERYBODY ELSE, has just announced new fall tour dates supporting Hanson. The band kicks off the tour on September 7 at the Aladdin Theatre in Portland and wraps up at the San Diego House of Blues on November 16.
The band is currently touring in support of their Rick Parker-produced self-titled debut album, as well as the acoustic digital version entitled, "1 ½", out now through indie-label The Militia Group.
EVERYBODY ELSE, a trio named for a Kinks B-Side, is simply described as a "California three-piece that has taken the sound of classic power pop and coaxed it into the 21st century," according to, Mark Deming of All Music Guide. Featuring vocalist and guitarist Carrick Moore Gerety, drummer, back up vocalist and keyboardist Mikey McCormack and bassist and back up vocalist, Austin James Williams, EVERYBODY ELSE is bringing back intelligent pop rock with their infectious harmonies and unforgettable melodies.
Confirmed Tour Dates w/Hanson
Sun           9/7             Portland, OR                               Aladdin Theatre
Mon         9/8             Seattle, WA                                   The Moore
Wed         9/10         Vancouver, BC                         Commodore Ballroom
Fri               9/12         Calgary, Alberta                       MacEwan Hall
Sat             9/13         Edmonton, Alberta                 Edmonton Events Center
Sun           9/21         Dallas, TX                                         House of Blues
Tue           9/23         St. Louis, MO                               Pageant
Wed         9/24         Kansas City, MO                   Uptown Theater
Fri               9/26         Minneapolis, MN                     First Avenue
Sat             9/27         Milwaukee, WI                           The Rave
Mon         9/29         Cleveland, OH                             House of Blues
Tue           9/30         Columbus, OH                             Newport Music Hall
Wed         10/1         Knoxville, TN                               Bijou Theatre
Fri               10/3         Nashville, TN                             Wildhorse Saloon
Sat             10/4         Louisville, KY                             Coyotes
Mon         10/6         Atlanta, GA                                   Variety Playhouse
Tue           10/7         Birmingham, AL                     Workplay Soundstage
Fri               10/10     Charlotte, NC                             Amos' Southend
Sun           10/12     State College, PA                   State Theatre
Mon         10/13     Pittsburgh, PA                           Carnegie Hall
Wed         10/15     Baltimore, MD                           Ramshead Live
Thu           10/16     Providence, RI                           Lupo's
Sat             10/18     Foxboro, MA                               Showcase Live
Sun           10/19     Foxboro, MA                               Showcase Live
Mon         10/20     New York, NY                         Nokia Theatre
Wed         10/22     Hartford, CT                               Webster Theatre
Thu           10/23     Atlantic City, NJ                     House of Blues
Sat             10/25     Poughkeepsie, NY               The Chance
Sun           10/26     Lancaster, PA                           Chameleon Club
Tue           10/28     Falls Church, VA                   State Theatre
Wed         10/29     Philadelphia, PA                     Keswick Theatre
Thu           10/30     Asbury Park, NJ                     Paramount Theatre
Sat             11/1         Montclair, NJ                             Wellmont Theatre
Mon         11/3         Chicago, IL                                   House of Blues
Tue           11/4         Chicago, IL                                   House of Blues
Wed         11/5         Des Moines, IA                     People's
Fri               11/7         Wichita, KS                                 The Cotillion
Sat             11/8         Denver, CO                                 Bluebird
Wed         11/12     Petaluma, CA                           Phoenix Theater
Fri               11/14     Los Angeles, CA                 House of Blues
Sat             11/15     Anaheim, CA                             House of Blues
Sun           11/16     San Diego, CA                         House of Blues
www.everybody-else.com
www.myspace.com/everybodyelse
Photo By: Rich Kim