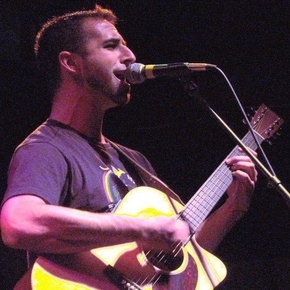 Inspiration is perhaps the most random of intangibles–sometimes flowing like a fountain, sometimes completely elusive. The only thing for sure is that inspiration tends to be the type of thing that finds you.
Just ask singer/songwriter Matt Shwachman and how an incapacitating sports injury and four years of failed treatments led him on a path of spirituality…the inspiration simply followed from there. It is that continuous path of spirituality that gave birth to Matt's new album Uncharted Territory, a 12-track record that is more providence than irony.
"That four year patch was rough to be honest," Matt admitted. "After finding little relief from those [medical] treatments, I turned to spirituality and began to see a noticeable change fairly quickly. I saw results…not only in physical healing, but in all aspects of my life."
It is the new album that serves as the documentary of Matt's newfound path and the personal growth that has come with it. "Uncharted Territory is a personal account touching on love, relationships, transformation and existentialism," he said. "Thematically it is about personal growth and that that growth always comes from unexpected places."
Musically, Uncharted Territory boasts pop approachability, upbeat melody and clever chord progressions.   Album standouts are the deeply lyrical "Dying To Feel Alive", the sing songy "Side Of The Road" and the hopeful optimism of "Soulmate." Throughout the album, the track titles foreshadow the positive message within each.
"The music I write tends to always offer a more uplifting message," Matt said of his songwriting. "I tend to delve into deep subject matter at times, but I try to do it in a simple way so that the listener can relate."
The new album has been well received and Matt's songs have been collecting accolades within college radio and AAA formats. Now complete with a full backing band, the guys are poised to play multiple venues for the upcoming Boston Music Festival as well as their Friday Night residency show at Club Fusion in Worcester, MA.
Words By: Chris West