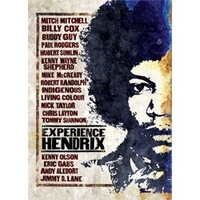 I was fortunate enough to attend the first tribute event years ago at The Rock Hall, and over the years, I've become good friends with many of the artists.   This DVD allows the viewer to experience historic music performed by modern day luminaries, including some of Jimi's collaborators.   Mitch Mitchell from The Experience, and Billy Cox from Band Of Gypsies fame perform along with Stevie Ray's rhythm section of Chris Layton and Tommy Shannon.   Legendary ageless guitar wonder Hubert Sumlin and former Rolling Stones guitarist Mick Taylor are a pleasure to watch perform, as is one of the best singers to ever hit the rock stage, Paul Rodgers.  
As for guitar work, you can't get any better than Kenny Wayne Shepherd, Kenny Olson, Eric Gales, Andy Aledort, Jimmy D. Lane, Vernon Reid, Buddy Guy, Mike McCready, the band Indigenous, and pedal steel whiz Robert Randolph.   The all-star jam at the end is a bit confusing, but they all are.  
The show was filmed in San Diego, and at the Paramount Theatre in Jimi's hometown of Seattle.   The most interesting things are the individual artist interpretations of Jimi's songs, the mixing/pairing of artists on stage, and the varied riffs the artists played.   Everything from Eric Gales casual strolling while shredding, to Buddy Guy's storytelling "Call and response" style, to Robert Randolph's squealing pedal steel landscape are well covered.  
The ensemble has done a limited amount of tour dates, but more are expected.   Check out the Experience Hendrix website for details.   Two things are definite.   Jimi Hendrix was a direct influence on modern day rock music, and secondly, these things are fun!
Words By: RME
[Rating: 4/5]