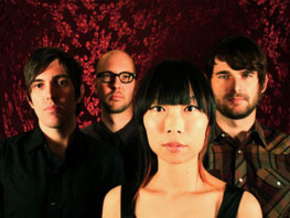 LoveLikeFire are proud to announce their signing to UK label Heist or Hit Records.   Over the past month they've been busily recording songs for their debut full-length at Tiny Telephone studios in San Francisco with producer Bill Racine (Mates Of State, Rogue Wave).
Upon finishing up work in the studio they take off on a 35 + date tour that sees them crossing the country as they make their way to and from CMJ 2008.
Heist or Hit Records is an inventive forward thinking UK indie set up by music loving entrepreneurs. The label has wasted no time in providing the San Franciscan act the tools to go about recording their debut L.P.   LoveLikeFire decided to stay close to home, and have begun putting down tracks at Tiny Telephone; the revered studio owned by fellow San Franciscan John Vanderslice.   The record is being produced by Bill Racine, who's credits include Rogue Wave, Mates of State, and work assisting David Fridmann with the likes of the Flaming Lips, Sparklehorse, Mogwai and more.
Music Video for "I Will":
[youtube iyaH0pk6Y_0 nolink]
September 2008
08 – Costa Mesa, CA – Detroit Bar
09 – San Diego, CA – Beauty Bar
11 – Denver, CO – Hi Dive
13 – Morrison, CO – Monolith Festival at Red Rocks
15 – Salt Lake City, UT – The Paladium
16 – Albuquerque, NM – Burt's Tiki Lounge
18 – Dallas, TX – The Prophet Bar
19 – Stillwater, OK – The Vault
20 – Lawrence, KS – Replay Lounge
22 – Omaha, NE – Slowdown
23 – Lincoln, NE – Box Awesome
24 – Des Moines, IA – Vaudeville Mews
25 – Minneapolis, MN – Nomad Pub
26 – Madison, WI – The Frequency
27 – Urbana, IL – Courtyard Cafe
28 – Chicago, IL – Schuba's   Pub
29 – St. Louis, MO – Bluebird
30 – Memphis, TN – Hi-Tone Cafe
OCTOBER 2008
02 – Atlanta, GA – Smith's Olde Bar
03 – Savannah, GA – Metro Coffee House
04 – Norfolk, VA – The Boot
07 – Washington, DC – The Red and The Black
08 – New York, NY – Pianos
09 – Philadelphia, PA – Inciting HQ
11 – Pittsburgh, PA – Bloomfield Bridge Tavern
12 – Louisville, KY – Skull Alley
13 – Cincinnati, OH – Gypsy Hut
14 – Akron, OH – Annabelle's Lounge
17 – Buffalo, NY – Nietzsche's
20 – Boston, MA – Church of Boston
22 – Kingston, NY – The Basement
29 – Denver, CO – Hi Dive
31 – Portland, OR – Towne Lounge
NOVEMBER 2008
01 – Seattle, WA – Comet Tavern