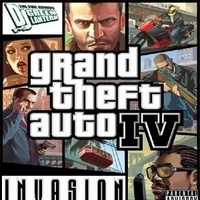 Three words can sum up this album: ROUGH, RUGGED AND RAWWW!!   The Evil Genius DJ Green Lantern brings you "Liberty City Invasion" Music from and inspired by the Grand Theft Auto IV video game.   The criminal feel is definitely evident on this album through hard-hittin' lyrics and street-pop, pop, poppin' beats.   All the artists are bringin' the heavy artillery on this soundtrack folks and I don't think they're kiddin' around man!   Maybe "it's not a game", as heard at the end of track nine, "I'm So Fly"?  
Notable hip-hop artists featured on this record are: Busta Rhymes, Fat Joe, Fabolous and Wyclef Jean along with many others.   My favorite track on the album is "I'm So Fly" by Fabolous and Fat Joe where you even hear the smooth sound of Akon–HOT Track.   Also love the overload of energy Busta Rhymes brings every time he touches a mic and that hypeness is definitely felt on track three, "Where's My Money".   Have to say though, hands down, "Bustin Shots" by Jim Jones and Juelz Santana had the tightest beat out of any of the other cuts.  
Have to say that if DJ Green Lantern and RockStar Games were looking to match the feel and idea behind the game, then they hit it right on the nose.   The shoot em' up, hard-core, don't give a f–k attitude is heard on this soundtrack, which I assume should jive perfectly with a game titled, Grand Theft Auto IV.   The sounds and lyrics referring to guns and gun shots were incredibly overwhelming on this album; I think I even ducked a few times, lol.  
All jokes aside, the Grand Theft Auto series has been a huge hit for the video game world along with the soundtracks, but let's keep it all out of the eyes and ears of kids.   With video games booming still in a struggling economy means people are buying more and playing more games with a big percentage of those people being children.   The adult-oriented graphics through the game and explicit lyrics of the music means only ADULTS should be seeing and hearing this stuff.   The kids are our future generation in this crazy world, so let's help them wherever, whenever and however we can.   We have a responsibility as grown adults, so let's all step up to the plate!
GTA IV is currently only on the Xbox 360 and PlayStation 3 game consoles, so go to a store near you and SKOPE it out!   For more info and details on the new game and music behind the game, check out:   www.rockstargames.com/iv and www.djgreenlantern.tv.   And remember to play hard, but listen harder.
Words By Jimmy Rae
[Rating: 2/5]