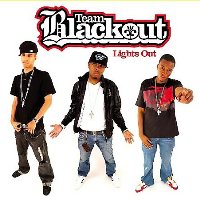 Rev Run of Run DMC introduces some new cats to the hip-hop scene, Team Blackout, with their debut album, Lights Out.   The group includes JoJo Simmons, son of Rev Run, along with two of his childhood friends, Zach and Reggie.   The trio has been featured on MTV's reality series, "Run's House" and they seem to be livin' large.
Amazing to think these three amigos are just teenagers because they sound incredibly well-polished–almost like fine wine.   Team Blackout definitely doesn't have the tone of rookies, yet this is their debut album!   The album features 12 hot tracks with my favorite being "J5 on 'Em", which is also has a video to the song on YouTube.   This cut just had so much fun energy that made you wanna "get up and get, get down"–thank you Flavor Flav.   I also was also feelin' some other fresh tracks like: : "Whip So Clean", "Billion Dollar Boyfriend" and "Lights Down Low".  
Lights Out brings to the turntable 12 slammin' tracks that have that bouncin' in the club feel—just partyin', hangin' out and have a good time is the mood throughout the record.   JoJo, Zach and Reggie are bringin' fun back to hip-hop and it's about time!   I was hearing futuristic sounds, the classic hand claps to the beat, old-school drum beat and just a hot, fresh sound altogether.   There was old-school flavor, but blended in with a touch of new-school.   Team Blackout is a rap trio to look out for in the future and they are definitely bringin' the heat on this one folks–1,       2,       3       Lights Out!
One thing that was a little redundant on the album was the constant echo of "Team Blackout" in the background of many of the songs.   I know these teens are young and wanting to get their stuff heard, so in the words of Tu Pac–"I ain't mad at cha".   Also, there was quite a bit of referencing to money on this album, which was kind of a turn off.   Rappers, in general, need to stop throwing their lavish lifestyles in our faces and rap about some real issues, but at the same time just have fun with it, which Team Blackout does bring to the table.  
I'm anxious to hear what Team Blackout comes out with next because I think they have a bright future in the world of hip-hop.   As long as JoJo, Zach and Reggie can come up with original and hip material steering away from talking about monetary pocessions and the power of the almighty buck, they'll be alright.   I actually think they have the talent and ability to become an elite rap group and I can see Team Blackout blowin' up on the scene like crazy!   I have a feeling it will be a long, long time before this NY trio calls it quits and says lights out.
For more on Team Blackout, check out: www.myspace.com/teamblackout3, teamblackout.net and http://teamblackout.uber.   Pick up a copy of Lights Out at a store near you and also SKOPE out tracks that you can purchase online at iTunes.   I definitely recommend this album to any hip-hop fan that just wants to have some fun.
Words By: Jimmy Rae
[Rating: 3.5/5]