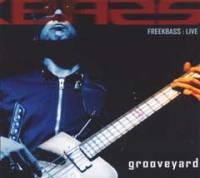 Freekbass plays that funky music and yes he is white, but it doesn't matter.   Funk seems to flow right out of Freekbass' soul and flows smoothly like crystal, clear water to his bass guitar.   Grooveyard is a new album by Freekbass, which was recorded live at 20th Century Theatre in Cincinnati, Ohio.   The group consists of Freekbass on bass/vocals, Chip Wilson on drums/vocals and T-Sly on guitar/vocals.  
The new, live album features nine funky, fresh and fun songs.   I can't help but think that Freekbass is the real deal and "Dr Funkenstein" himself, song title courtesy of funk-masters, Parliament.   First thing I noticed was how the funkiness seems to ooze out of Freekbass' bass guitar so flawlessly and effortlessly.   T-Sly was also jiving along on guitar and Wilson keepin' a solid beat, which made for an all-around great sound.
I picked up on a Red Hot Chili Peppers vibe through some of the songs; that old-school and funky Chili Pepper sound.   Also, you will hear on track one, "She's Already There" the famous voice echo effect that sounded similar to the Ohio Players' "Love Rollercoaster".   Not to mention, the Red Hot Chili Peppers redid "Love Rollercoaster" as well, so vintage Chili Peppers sound definitely coming through on Grooveyard.   Freekbass is even heard bustin' out a rhyme and showin' off his MC skills on "She's Already There".  
By far, "Up, Up, Up" couldn't have been titled better because the song is all about having fun, partying up and never letting up!   Honestly never letting up because the longest song on the album going for over 18 minutes, but you know what it works and it's funkin' great!   You get to hear it all on "Up, Up, Up":   solos with ferocity by all three members, you'll hear the Cincy crowd really havin' one hell of a time and Wilson getting those funketeers goin' by yelling out to the crowd, "Ain't Nothin' but a Freekbass Party!" and "Say Freek—–Bass"!!"   Bring in the funk because there was one huge funk fest going on during the making of Grooveyard, courtesy of the Duke of Funkness himself, Freekbass.  
You'll move your head and move to the funk-nasty beat; you won't be able to help yourself! Freekbass is funk man; hear it, feel it and believe it.  
For more info on Freekbass and his group, SKOPE out: www.freekbass.com and www.myspace.com/freekbass.  
Also, live video footage for this concert available at www.MindIgnitionChannel.com.  
Keep the funk alive and keep it funky brother!  
Words By: Jimmy Rae
[Rating: 4.5/5]