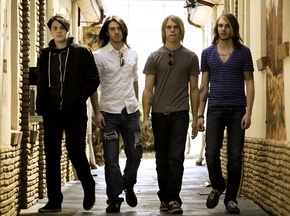 This next band in one of my favorite bands on the scene today. First of all they did a music video for "Typical" with Gabrielle Fox who is just amazingly hot. They also are signed to Wind Up Records and have one of the busiest tour schedules out now. Earlier this year the band took a major hit when they lost member Johnny Schou. I was lucky enough to chat with Stefan Runstrom (Drums) about that & much more!
Stoli: How did you come up with the name Tickle Me Pink?
S: Ultimately, we just didn't want a name with a season in it… It was sort of a stab at the more serious band names if you catch my drift.
Stoli: You all are still young. At what age did you meet up and form the band?
S: Sean and I met about three years ago at a high school talent show. At the request of our history teacher, we started a band together… It was almost immediately that we began writing in preparation for our first EP.
Stoli: Would you say that due to the cause of Johnny Schou's passing, people got the wrong impression of your band as a whole?
S: Absolutely. People tend to associate drug use as a public thing vs. a private escape. We were completely unaware that he had been using. If we did know, we would have tried to help him through it and would have done everything in our power to prevent it from happening.
"Typical" Feat Gabrielle Fox:
[youtube BPvoAvmPNMw nolink]
Stoli: What made you decide to keep moving forward and would that be what Johnny would have wanted?
S: Without a doubt. Sean and Johnny wrote the majority of this album together. They poured their hearts and souls into it. I think if any of us had passed away, we would have wanted the band to continue.
Stoli: Your new video, "Typical" has been added on Music Choice in New England. How does it feel to finally see the masses embrace your music & sound?
S: It's a feeling unlike any other. It's really strange when people on opposite sides of the country are calling you telling you that your song is on MTV… It certainly doesn't get old.
Stoli: Do any of you have serious relationships at home and how do you stay close on the road?
S: Two of us have pretty serious girlfriends. Being away for extended amounts of time can definitely take its toll. However, things like iChat and IM are incredibly helpful.
Stoli: What would you say is the best thing about having a record deal with Wind-up Records?
S: It feels like an extension of our band. They are extremely family oriented and they wouldn't ever turn their backs on us. Most people tend to think of record labels as these fraudulent evil organizations, but Wind-up is quite the opposite.
Stoli: How long were you shopping your demo before Wind-up offered to cut a deal with you?
S: About a year. We played a few showcase shows and had some major label interest, but nobody was ready to make a move until Wind-up threw down.
Stoli: How has the experience with Johnny Schou changed how you look at partying & fast living?
S: None of us have ever been into drugs, it's not really our thing. But after Johnny passed, it definitely was an awakening to how short life can be. It's the most effective anti-drug in my opinion.
Stoli: Can we expect a tribute song to Johnny Schou anytime soon?
S: Ha ha… If you knew Johnny, you would know how much he would absolutely hate that.
Stoli: What do you bring on the road with you to help keep a sense of normalcy?
S: Headphones
Stoli: What would you tell younger musicians that look up to you and want to also live the fast life of music?
S: A lot of people have this fantasy rock and roll world made up in their heads… After years of touring and all that, it just becomes your life, and it some ways, your job. It's the best job in the world, but it's not always fun and games.
Stoli: For the average 9-5 guy or gal please describe life on the road of constantly playing new venues and traveling.
S: We are in a van 80% of our lives… It's great to get to travel all around the world, but it's also tiring. Sometimes we don't even get to see these amazing cities we pass through because we're so exhausted and just want a bed… However, I don't think any of us would trade it for the world.
Stoli: What can we look for from Tickle Me Pink for 2008 & beyond?
S: Touring!!! Hope to be in a nearby city soon!
Photo By: Efrain Cruz