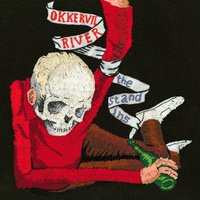 On The Stand Ins, the worth is in the girth. At only eight songs, discounting three eponymous interludes, the latest release from Austin-based Okkervil River could easily come off as thin, but each song in this 8-pack is jam packed with meticulous arrangements and brilliantly crafted lyrics.
The Stand Ins is the "sequel" to 2007's The Stage Names, which was originally conceived as a double album. It's hard to see how any of these songs missed the cut on The Stage Names. Almost two years on, the band sounds fuller, smarter and musically fearless. The opener, "Lost Coastlines," starts soft with guitar and banjo, then gradually adds layers of electric guitars, groovy bass, piano, horns, strings and sing-along choruses, turning what began as a simple rock song into a symphonic anthem. On the alt-country "Singer Songwriter," Okkervil River's front man Will Sheff takes pot shots at kitschy, name-dropping hipsters, quipping "You've got taste, what a waste that it's all that you have."
"Pop Lie," sounds like late-eighties R.E.M. with sugary synth licks straight out of a Rentals record. The joke's on us, really, as Sheff calls out corporate rock stars while the band rocks out to the most poppy song they've ever written, singing "He's the liar who lied in his pop song… And you're lying when you sing along." Even more gorgeous is the piano-driven melody in "Calling and Not Calling My Ex," complete with Phil Spector-esque church bells and organ.
Even when one of Sheff's songs stumbles off of the blocks, as in "Blue Tulip" and "Bruce Wayne Campbell Interviewed on the Roof of the Chelasea Hotel, 1979," his band is able to rally behind a groove and soak the speakers with sound. Only The Arcade Fire and the E Street Band can do this as effortlessly as Okkervil River does on The Stand Ins.
Words By: Bill Reese
[Rating: 4/5]