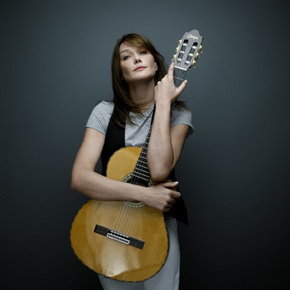 Carla Bruni's new release Comme Si De Rien N'était (As if Nothing had Happened) on Downtown Music.
Two years after setting to music an anthology of English-language poems from the 19th and 20th centuries, Carla Bruni has once again taken up her pen to write a new album of original songs, the first since her inaugural and highly successful CD, Quelqu'un m'a dit (Someone Told Me), in 2002. What immediately strikes you when listening to Comme si de rien n'était is its lush instrumental palette. After recording two CDs with an uncluttered, folk-blues style, the singer explores a wide spectrum of genres ranging from pop to bluegrass, with nods to jazz and flamenco. Bruni's touch, however, is immediately apparent in these compositions that again focus their gaze on emotion. "I've been following the same thread since I started writing songs", she says.
Centred on a core of accompanists who recorded the titles live (bass, drums, guitar, keyboard, harmonica), Comme si de rien n'était sounds almost like an album recorded by a band. Despite this group aspect, however, the album actually seems more personal than its predecessors. "There are more participants, but the CD is just as much mine as the first two. I don't have the impression at all that my songs were taken away from me and changed", says Bruni.
Responsible for the album's sound, producer Dominique Blanc-Francard adorned Bruni's new compositions with rich and varied accents. "When songs come to mind, I take care of their essence; I don't dress them up", explains the singer. After working exclusively with Louis Bertignac on her first two albums, she turned to a colleague she had met during the sound recording of her concerts at the Trianon Theatre in Paris in 2004. "I would find it very hard to work with a complete stranger. It's really important for the recording to go smoothly".
It is a beautiful intimate record of French pop and folk. The record has 10 original compositions by Bruni as well as her version of the American classic "You Belong to Me" and "Il Vecchio e Il Bambino" by Italian anarchist Francesco Guccini.
"L'Amoureuse" MP3":
"L'Amoureuse" Video File:
Tracklisting:
1. Ma jeunesse
2. La possibilité d'une île
3. L'amoureuse
4. Tu es ma came
5. Salut marin
6. Ta tienne
7. Péché d'envie
8. You belong to me
9. Le temps perdu
10. Déranger les pierres
11. Je suis une enfant
12. L'antilope
13. Notre grand amour est mort
14. Il vecchio e il bambino